DOWNSIZING Advance Screening Pass Giveaway!
EntertainmentAffair.com presents the DOWNSIZING Advance Screening Pass Giveaway from Paramount Pictures.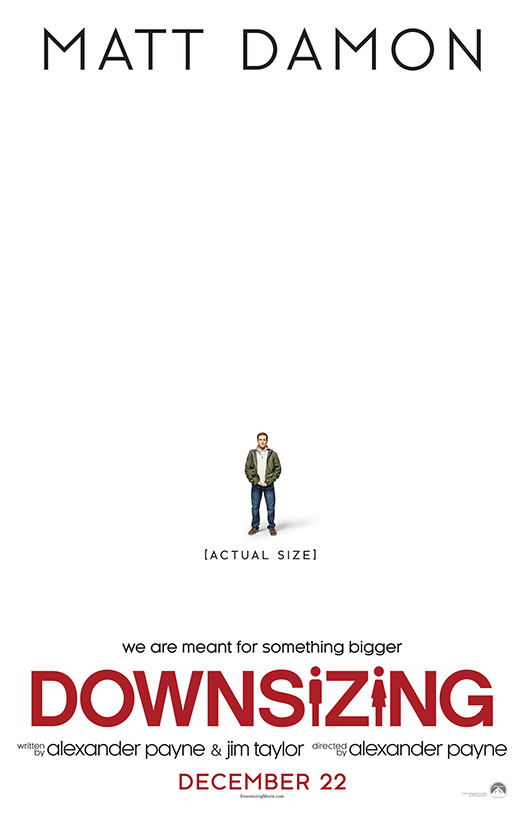 If you live or are in any of these cities we invite you to participate (Chicago, Dallas, Houston, Los Angeles, Miami, New York City and San Diego).
Download a first-come, first-served screening pass by clicking on the link for your city below. Screenings will take place on Tuesday, December 19.
Follow the instructions in your pass and share your excitement using #Downsizing.
Chicago - Regal City North Stadium 14 IMAX & RPX
Dallas - Cinemark 17 and IMAX
Houston - Edwards Houston Marq'E
Los Angeles - Edwards South Gate Stadium 20
Miami - AMC Sunset Place 24
New York City - AMC Loews 34th Street 14
San Diego - Regal Rancho Del Rey Stadium 16
Downsizing imagines what might happen if, as a solution to over-population, Norwegian scientists discover how to shrink humans to five inches tall and propose a 200-year global transition from big to small. People soon realize how much further money goes in a miniaturized world, and with the promise of a better life, everyman Paul Safranek (Matt Damon) and wife Audrey (Kristen Wiig) decide to abandon their stressed lives in Omaha in order to get small and move to a new downsized community — a choice that triggers life-changing adventures.
Visit all DOWNSIZING sites:
Visit the official website
Visit Downsizing on Facebook
Follow @downsizingfilm on Twitter #Downsizing
Downsizing in theatres December 22.