'Ferdinand': We Talk with the Famous Voice Actors Behind Each Animated Character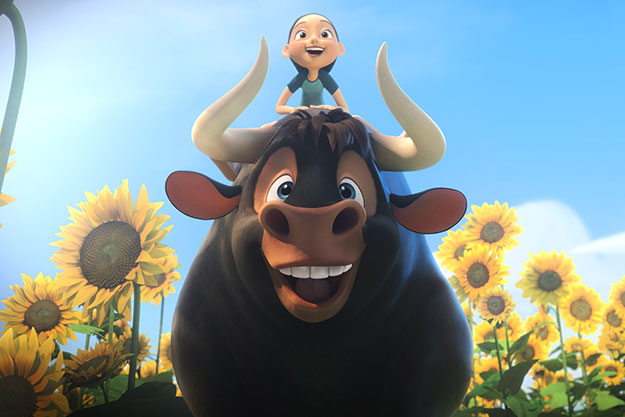 'Ferdinand', the newest animation movie from Blue Sky and 20th Century Fox Animation Studios, it's a modern take on Munro Leaf and Robert Lawson's children's book 'The Story of Ferdinand'. Ferdinand is a bull that was born to fight but chose to love preferring the smell of flowers than the smell of blood. He was different and he always knew he was meant for something bigger than what everybody told him he was meant to be. He had the courage to jump out and escape to live happily in the fields until one day Ferdinand was brought back to the place he once left behind and feared. There with the help of his unusual friends they find a way to free themselves and to find themselves along the way, choosing what they really wanted to be without fear or judgement. Ferdinand will teach you about always being yourself and standing your ground with love and not violence, bulls don't have to be bullies. This is a theme that we are recently seeing more and more in films, that  you can be different and it's ok, and to always follow your dreams.
'Ferdinand' was directed by Carlos Saldanha, and with the voices of great stars like John Cena (Ferdinand), Gabriel Iglesias (Cuatro), Gina Rodríguez (Una), Flula Borg (Hans), Boris Kodjoe (Klaus), Kate McKinnon (Lupe), Bobby Cannavale (Valiente).
We had the opportunity to sit down and talk with the stars that gave the voice to the characters of Ferdinand, Una, Cuatro, Hans and Klaus, and between a lot of laughs, jokes, and calls to a wife in the middle of the roundtable by Boris when his wife demanded an immediate call which was hilarious; we got some words of what they had to say about the movie, playing their characters and working in a booth by themselves without seeing the animations and just following notes from the director.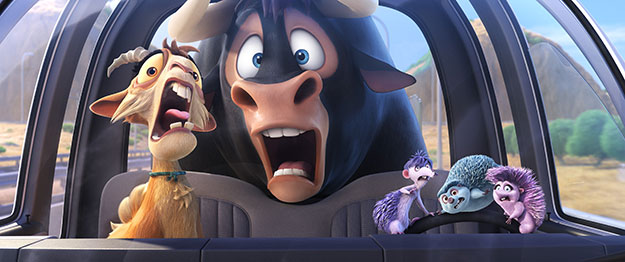 On what inspired them to make these characters come to life:
Flula who couldn't stop making jokes and cracking us up said: "Before I enter the booth. I remove my hoodie. I would move my fanny pack. I stare at myself in the mirror and I'm like what's up horse man. It's time to bring it hardcore and bring all of the love to everyone... and tonight I eat some hay. "
Gina: added "So he's a method actor."
Gina: "I bought a small farm of hedgehog's." she joked and then went on and describe "I mean I'm going to be honest. I have a crazy imagination. So I kind of try to make the world around me. Playing a hedgehog I kind of.. I can creepily see the world around me."
Flula fired back with "Super not creepy" and jokes and witty comments between the two couldn't stop.
Boris: "It was a lot of fun. You know for me. It was just getting in touch with my roots and personifying one of my uncles back in Germany. So just talking like that and being ridiculous. So that was it. So no it was fun because you know I mean ever since I've been here for 20 years I've never been able to play a role that is anywhere even close to who I am. So people assume that I'm from... Crenshaw. But you know I'm as German as they come so to play a character like that is to me very refreshing because it's the closest to me that I've ever come here in this town."
Fluffy: "I'm basically the guy that is along for the ride throughout the film I'm always hungry, I'm always looking for the next meal, I'm always just like trying to have fun which is, you know, it's like you said, it's basically me. You know it was very much catered for for me to play. And so a I had a lot of fun doing it. Any time you can be yourself. No pun intended with the movie. It's always a lot of fun."
Cena: "Ferdinand was a great way for me to take what I go through in normal life and convert it to the screen. Ferdinand is big and because of his size people think he will be something but there's a lot more to him than being big, it's the same with me."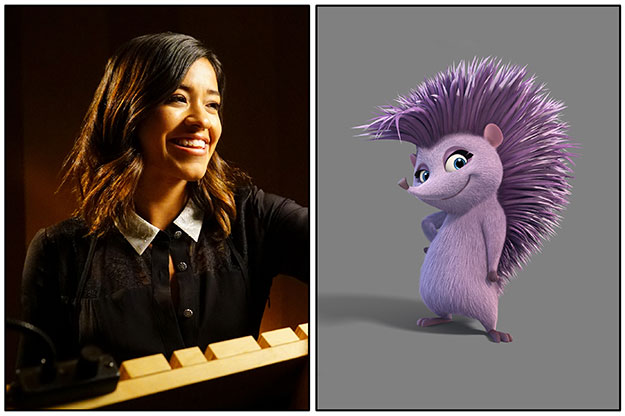 On working on a booth and bringing the characters to life:
Fluffy: "You know what I like about it the most is the fact that the pressure behind it is not as hard as doing the regular film, from the preparation involved, in you know, traveling away from family and friends; you gotta sit in a trailer and memorize lines and then they change their mind when you get on the set. And here you show up in your pajamas. you show up. you know shaved or unshaved, you know, like hungover and they hand you the lines. You don't have to memorize anything, you got somebody there to correct you instantly. And you know it's almost instant feedback like how were your performances..."
"...You know they're recording the entire time so they're able to take in, you know, stuff that you do, then these guys actually add it to the film. Versus like there's been times where I had to fill in. And so you had to adapt to whatever it was that was already animated. But they said we want you to just have fun with it and got the camera in your face. That's pretty cool too because you know that some of that animation is based on your movements and some of the things that you said."
Boris: "I worked out for eight weeks to get the statue of a German show horse. A lot of research talking to my relatives at home. And... you know sometimes you want to feel out of breath and you do run in place so you get yourself hyped up. But other than that you know you're in a booth. When you're on a booth and the director is there and he talks to you. He sort of sets the stage for you. We don't know what's happening. You know we don't see the movie. You know we don't know what's going on so he has to, you know basically set up the whole scenario the whole scene for you and explains who's in the scene what's going on and what your motivation is and your objective. And then you just go and there's a lot of improvisation obviously, which is fun and the whole process is a lot of fun."
Cena: "It was kind of easy, you know, to the extend I was expecting to come to the room and hear a Pan Pa Pan Pang because I'm viewed as kind of this WWE personality..."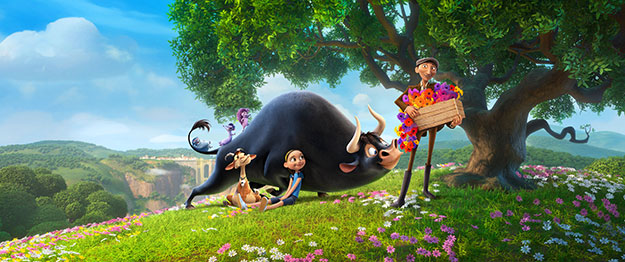 How was it to work with the director:
Fluffy: One thing that you guys won't asked about what I think what's interesting is that the director he sounds like he should be in the movie. He's got a voice that sounds very animated and you know a lot of times directors say can you do this, can you do that. I like the fact that he gets into the film with you and he's like, you could just give me more like and then he'll start acting, he'll act the scene for you. And you are like dude why the hell aren't you talking on one of the mics. You are a character. He's super animated and he encourages you and he just gets in your face. And like this and like this... Like dude really! like what are you drinking?
Boris: "Carlos was very encouraging with the German, he loved the German stuff so he said bring more because nobody speaks German except me. So I knew when to put it in certain words, if he liked them, when he liked something he just encourage me to do more."
When asked about what kids should take from this movie:
Gina: "You are enough and to be yourself always; yourself is exactly... just exactly what you need to be. It will take you far."
Flula: "I like that...that was a wonderful answer. I can make a better answer. So I would just reword it in my own way to make it sound like an original idea. Oh hey don't listen to those people just do your own thing because you're dope and sassy."
Cena: "I want kids to enjoy it first and foremost because that's what it's all about...I think there's so many things you can take away from this movie as Ferdinand, from Ferdinand's perspective, just don't be afraid to be yourself, what you see is not necessarily what you get all the time, that there's more than first impressions...that's it's ok that your friends are different... there's so many lessons to be learned and everybody can take something different from it.  
Ferdinand in theaters on December 15, 2017.