Nat Geo Winter 2018 TCA Recap: 'The Story of God,' 'Genius: Picasso,' 'Cosmos'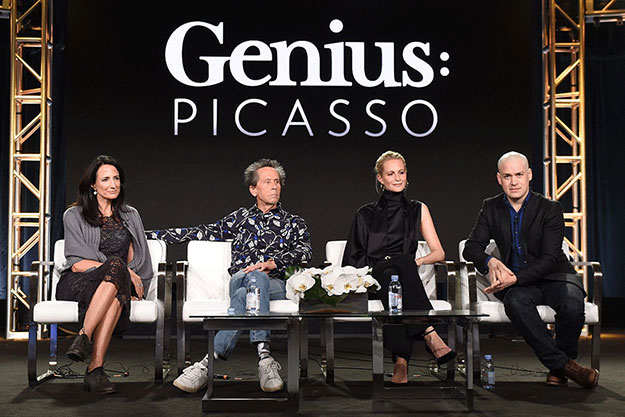 After FOX and FX had their time in the spotlight at the winter 2018 Television Critics Association (TCA) press tour in Pasadena, California, it was National Geographic's turn on Saturday, January 13. Among their many announcements were a third season for the Emmy-nominated series "The Story of God with Morgan Freeman," a new documentary series "America Inside Out with Katie Couric," and premiere dates for National Geographic's 2018 winter/spring series and specials.
Here's an overview of National Geographic's day at the winter 2018 TCA press tour:
"The Story of God with Morgan Freeman" gets Season 3
National Geographic announced the greenlight of a third season of "The Story of God with Morgan Freeman." The new season will follow Morgan on an international journey to discover the power of religion and how it touches our lives. The series is executive produced by Morgan, Lori McCreary and James Younger of Revelations Entertainment. It's the network's most-watched show of all time.
"We are pleased to expand our partnership with Morgan, Lori, James and the entire Revelations Entertainment team on another season of 'The Story of God,'" said Tim Pastore, National Geographic Channel president of original programming and production. "Our viewers around the world have had an incredible response to the series thus far, and we're excited to see where else this team might take us."
The third season will air globally in 2019 on National Geographic Channel in 172 countries in 43 languages, and in Spanish on Nat Geo Mundo.
A new project with Katie Couric
"America Inside Out with Katie Couric" is National Geographic's latest project with Katie Couric. This six-part documentary series, inspired by her experience making National Geographic's documentary "Gender Revolution," will follow Katie across the country as she talks with people about the most complicated and consequential questions in American culture today.
"I wanted to explore some of the thorniest, most divisive issues facing the country, and give people the tools to have a conversation, not just an opinion," Katie said. "In the instantaneous, 24/7 news cycle, people seem to want affirmation, not information. That makes it all the more important to step out of our comfort zones and be open to different perspectives. I want to revive the lost art of listening, because when we understand each other, it can help us reclaim our empathy and humanity, and forge a path forward."
"America Inside Out with Katie Couric" will premiere globally on National Geographic on Wednesday, April 11.

"Genius: Picasso" gets a premiere date
The follow-up to the hit series "Genius," which will spotlight the prolific painter Pablo Picasso, stars Antonio Banderas and Alex Rich, who will jointly play the role of the artist. "Genius: Picasso" will have a special two-hour premiere on Tuesday, April 24, at 9/8c.
The 10-part global event series comes from Fox 21 Television Studios, and is executive produced by Brian Grazer and Ron Howard's Imagine Entertainment, MWM Studios and EUE/Sokolow Entertainment. Showrunner, executive producer, writer and director Ken Biller also returns.

A new season of "Cosmos"
National Geographic also announced a new season of the Emmy Award-winning series "Cosmos." Renowned astrophysicist Neil deGrasse Tyson will return to host the 13-part series, which will air on both FOX and National Geographic and globally on National Geographic in 171 countries and 43 languages.
"Cosmos: Possible Worlds" is executive produced, written and directed by Ann Druyan, who wrote a companion National Geographic Book, which will release alongside the new season. Seth MacFarlane, Brannon Braga and Jason Clark are also executive producers for the new season, which is scheduled to premiere globally in spring 2019.

New host for "Explorer"
National Geographic announced Emmy award-winning TV personality Phil Keoghan as the new host of its long-running and critically acclaimed series "Explorer" when it returns in fall 2018. The new season will feature 20 all-new episodes and premiere on National Geographic in 172 countries and 43 languages.
More Nat Geo premiere dates for 2018
In addition to the dates listed above, National Geographic set the following premiere dates for its 2018 winter/spring series and specials:
"Chain of Command": January 15 (announced earlier; special two-hour premiere)
"Jane": March 12 (commercial-free simulcast on National Geographic and Nat Geo WILD)
"One Strange Rock": March 26 (hosted by Will Smith, from executive producers Darren Aronofsky and Jane Root)

Nat Geo WILD's announcements
Nat Geo WILD also had a number of exciting announcements, including:
New series "Zoo Life" with director emeritus Jack Hanna (premieres this June)
New natural history slate featuring three new limited series: "America's Wild Frontier" (premieres Friday, March 2), "The Mighty Northwest" (premieres April 2018) and "Wild Russia" (premieres June 2018)
Nat Geo WILD From the Red Carpet, a one-hour event premiering Sunday, March 4, at 7 p.m. ET/4 p.m. PT
"Symphony for Our World," a symphonic celebration of our planet's beauty on Earth Day (premieres commercial-free on Sunday, April 22)
Nat Geo WILD also unveiled its slate of new and returning series for 2018, including its No. 1 show, "The Incredible Dr. Pol"; "Rocky Mountain Rescue"; and "Alaska's Grizzly Gauntlet."