Cirque Du Soleil's SEP7IMO DIA - No Descansaré to Debut in Los Angeles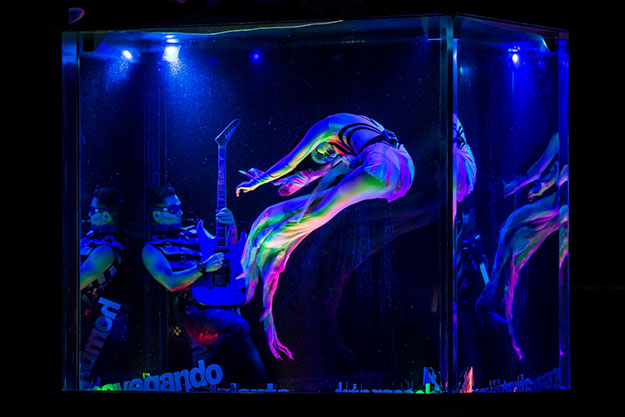 Cirque du Soleil returns to the City of Los Angeles in 2018 with its highly acclaimed touring show SEP7IMO DIA – No Descansaré, the show inspired by the musical legacy of the iconic Latin rock band Soda Stereo. SEP7IMO DIA will premiere at The Forum in Inglewood on May 3rd through May 6th.
Written and directed by Michel Laprise (also director of Cirque du Soleil´s KURIOS – Cabinet of Curiosities as well as Madonna´s MDNA tour), SEP7IMO DIA conjures a world outside of time – a place where emotions ebb and flow like the tide, pulsing to the rhythm of the band's emblematic songs.
A cast of 36 performers take the audience through a series of visual, acrobatic and artistic tableaux, achieving an unforgettable experience that honors the fierce and innovative artistic approach of the trio and their musical legacy.
SEP7IMO DIA - Cirque du Soleil´s 40th show – is one of the company´s creative collaboration with world known musicians, others being The Beatles LOVE and Michael Jackson ONE, both resident shows in Las Vegas.
SEP7IMO DIA – No Descansaré, which premiered exactly ten years after the band´s Me Verás Volver tour in 2007, the tour that reunited the band after a decade of separation, pays tribute to the wave of euphoria that Soda Stereo unleashed in Latin America and beyond, and celebrates the iconic band's deep connection with its fans.
SEP7IMO DIA – No Descansaré is Cirque du Soleil´s first show that features a sector where the audience is standing up. The sector, called Zoom Zone, will give audiences the opportunity to live the energy of the show at it´s best.
Tickets are available for purchase by visiting https://www.cirquedusoleil.com/sep7imo-dia or calling Ticketmaster 1-800-745-3000. In addition, Soda Stereo Fans can purchase through Soda Stereo official social media channels (@sodastereo) and official social media channels of SEP7IMO DIA (@sodacirque7d). Tickets start at $55.