Press Conference: 'Captain Marvel' Gives us Girl Power and 90's Nostalgia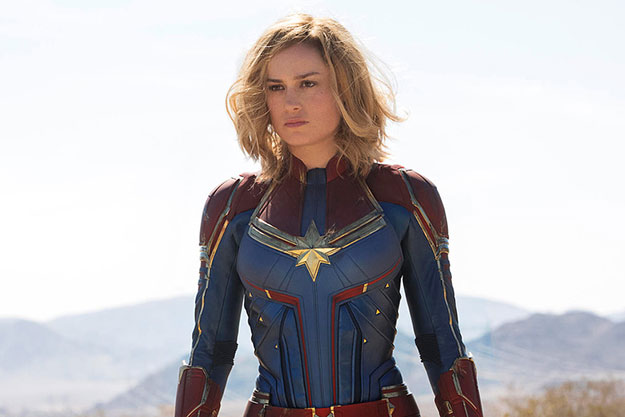 A couple of weeks ago I had the opportunity to attend the screening of Captain Marvel; about 2 weeks prior to its premiere, and being that I had never watched any Marvel film, I was ecstatic to do so. You might be asking yourself why I've never watched one and what changed. These types of movies had never called my attention enough to watch them, but I had heard so much buzz surrounding this one, that I knew I couldn't miss the opportunity. Not to mention the fact that the hero was now a girl; a heroine. That in itself called my attention.
After watching it, I can tell you that I absolutely loved it and feel like I need to watch all of the other ones ever made to catch up. Not only was it the girl power message that was present throughout the whole film, but also the 90s nostalgia which brought back so many memories. I grew up in the 90s so watching it felt fitting; like they were talking to my generation but with the girl power message so prevalent today. While I don't want to talk too much about the film so as not to leak any spoilers, I will tell you that it's an amazing film filled with a beautiful and special friendship, girl power, 90s nostalgia, and a few laughs along the way. As a woman watching this film, I can tell you that the message isn't only for little girls, it's for women in general. I found myself at times identified and inspired by Carol/Captain Marvel because of how much she learned to believe in herself. Not only is it the message of a girl being able to become a hero, but the friendship that is showcased between Carol and Maria that makes this film so special and relatable. Also, without giving out too much info, by the end of the film, you will learn to love the cat named Goose, possibly making him your favorite part of the film. I know I did.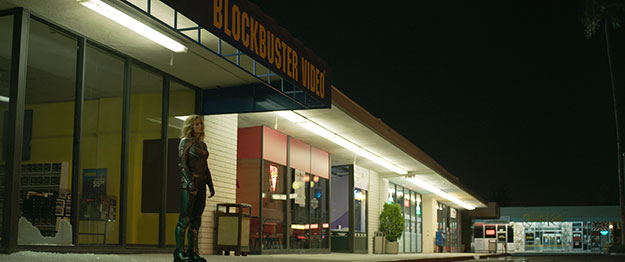 The film is set in the 1990s and centers around a previously unseen period in the history of the Marvel Cinematic Universe that follows the journey of Carol Danvers as she becomes one of the universe's most powerful heroes. While a galactic war between two alien races reaches Earth, Danvers finds herself and a small cadre of allies at the center of the maelstrom. The film stars Brie Larson, Samuel L. Jackson, Lashana Lynch, Gemma Chan, Annette Bening, Clark Gregg, and Jude Law. Captain Marvel is produced by Kevin Feige and directed by Anna Boden and Ryan Fleck.
The same week of the screening we also exclusively attended the global press conference here in Los Angeles and in attendance were Brie Larson (Carol Danvers / Captain Marvel), Samuel L Jackson (Nick Fury), Jude Law (Starforce Commander), Gemma Chan (Minn-Erva), Lashana Lynch (Maria), Clark Gregg (Agent Coulson), Anna Boden (Director), Ryan Fleck (Director), and Kevin Feige (Producer). The team talked about how it was filming this movie, how Brie trained for it - by the way, did you know that by the end of her training she was able to push a 5,000 lb Jeep uphill! - and what coming on board for this film meant to them.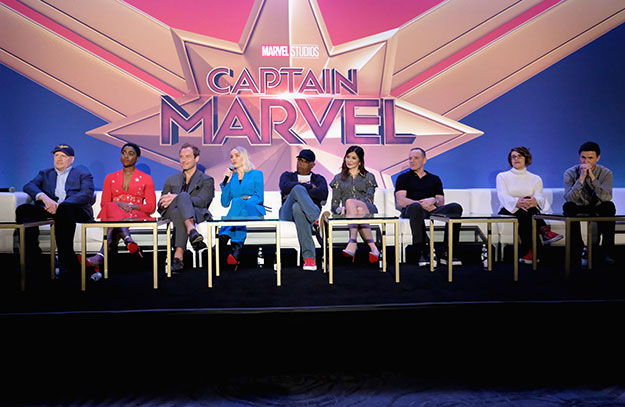 They then answered questions from the media present with the last question coming from a little girl aged 12; question which ended up becoming the most important one of all. She asked the cast what they hoped children her age that go watch it would take away from the film. Brie turned the question around and asked her what she took away from watching the film seeing as the film was made for children like her. The little girl replied, "I loved you as Captain Marvel because I thought you were such an empowering female role figure and role model.  And I think that all my friends and me, when we watch the movie, we'll all really appreciate that." With that response, I believe Captain Marvel has accomplished what it set out to do.
Watch the video below to check out clips from the press conference. Thank you to Faranduleo 411 for the video and for attending the screening and press conference on our behalf. Make sure to check out the movie when it hits theaters this Friday, March 9th!