"Hollywood Dream Machines" Exhibit Opens at Petersen Automotive Museum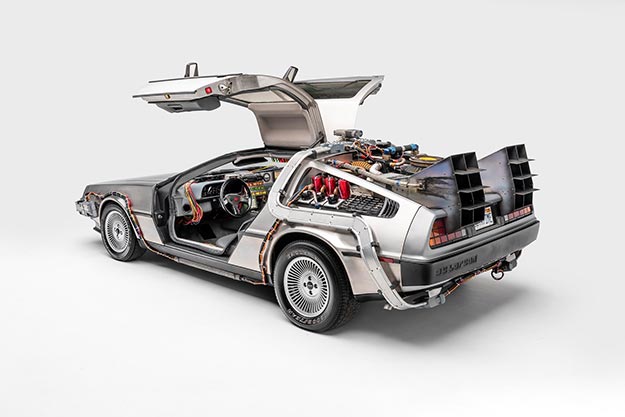 The "Hollywood Dream Machines: Vehicles of Science Fiction and Fantasy" exhibit opened last weekend at the Petersen Automotive Museum in Los Angeles. With more than 40 iconic vehicles drawn from cult classic films and video games, it's the largest exhibit of its type ever assembled.
Along with iconic automobiles, the exhibit showcases a selection of concept artwork, props and costumes to explore and analyze the ways in which the speculative fiction genre pushes the boundaries of human imagination. Series represented in the display span the niches of speculative fiction with emphasis on dystopian future films such as "Back to the Future", "Blade Runner," "Ghost in the Shell," "Transformers" and "I, Robot".
Key vehicles on display include the Warthog from "Halo," the 2035 Audi RSQ from "I Robot," the time machine from "Back to the Future", the Weyland Industries RT01 Group Transport from "Prometheus," the 2008 Audi R8 from "Iron Man," Bumblebee from the "Transformers" series, the GM Ultralight from "Demolition Man," Batmobiles, and more.
"'Hollywood Dream Machines' will be the biggest exhibit of our 25th anniversary," said Petersen Automotive Museum Executive Director Terry L. Karges. "With more than 40 vehicles from the silver screen spread across the museum, the exhibit is an ode to the industry that Los Angeles was built upon. We can't wait to explore the fantasy and fictional concepts behind these extraordinary vehicles with the world."
The exhibit also features a Microsoft HoloLens experience called "Worlds Reimagined." The mixed reality experience will provide guests the opportunity to try this immersive technology, and see the Warthog from "Halo" and the "Back to the Future" time machine in a whole new way.
"Hollywood Dream Machines" will run through March 15, 2020. To purchase tickets to the exhibit, please visit http://www.petersen.org/hollywood.