A "Murder Mystery" on High Seas Starring Adam Sandler and Jennifer Aniston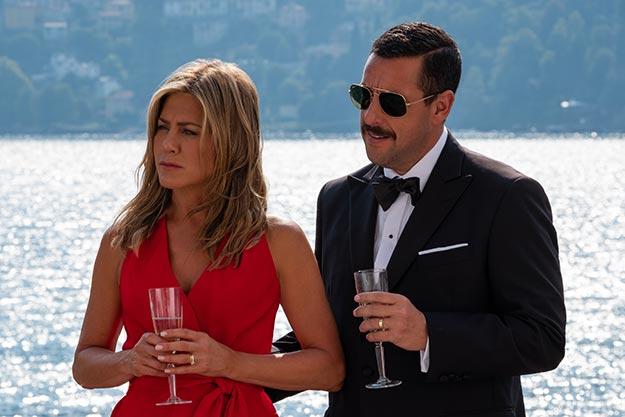 Last week we had the opportunity to attend some special events with Netflix surrounding the premiere of their latest film, "Murder Mystery" starring Jennifer Aniston and Adam Sandler. The three day event kicked off with a murder mystery dinner aboard a yacht in true whodunit form. Because the movie also takes place aboard a yacht, it was a great way to not only recreate it, but also promote the movie while we had some fun. We had such a great time, and even ended up being part of the winning team! Our table aboard the yacht was the one who uncovered the murderer! Once the dinner ended, we made our way to the red carpet and premiere of the movie which took place a few days prior to its global premiere this past Friday. We enjoyed the red carpet and then made our way into the theatre. We laughed and enjoyed the movie so much that we could not wait for the press conference scheduled for the next day.
SYNOPSIS: When a NYC cop (Adam Sandler) finally takes his wife (Jennifer Aniston) on a long promised European trip, a chance meeting on the flight gets them invited to an intimate family gathering on the super yacht of elderly billionaire Malcolm Quince. When Quince is murdered, they become the prime suspects in a modern day whodunit.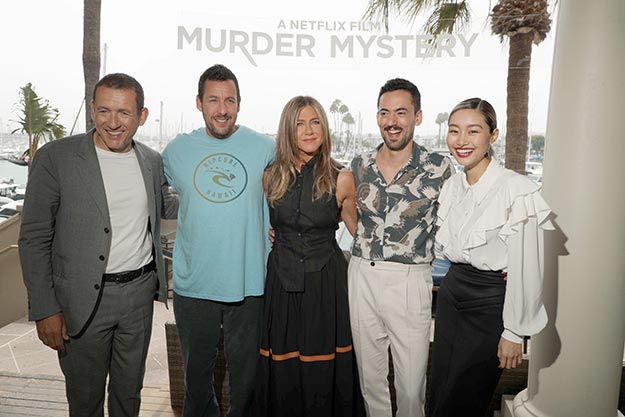 Next day's press conference was with Jennifer Aniston, Adam Sandler, Luis Gerardo Mendez, Shioli Kutsuna, Dany Boon, writer James Vanderbilt, and director Kyle Newacheck.
The cast talked about how much fun it was filming the movie in so many exotic locations such as Montreal, Monaco, and several places in Italy which even included a castle! They also reminisced about how well they all got along during filming, but the conversation mainly centered around how much chemistry exists between Sandler and Aniston and how well that translates onto the screen. Luis Gerardo Mendez also mentioned how star struck he was to be working with two actors that he admired and grew up watching. Shiolo Kutsana shared how this was her first time working on a film that was comedy even though it also centers around drama.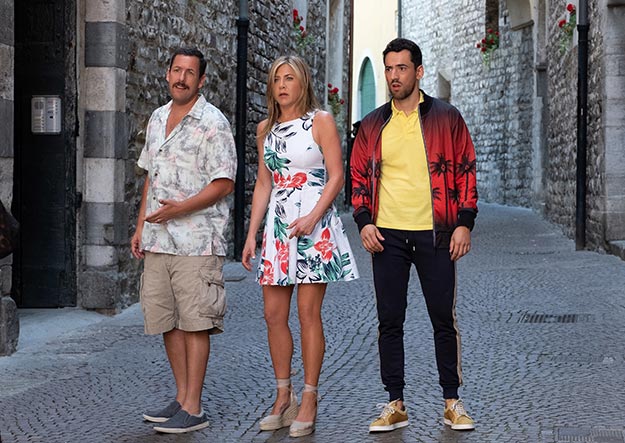 The chemistry between Adam and Jennifer was also noticeable in the press conference as well so much so that they mentioned that even after almost eight years since their last movie together, they picked up where they left off as if no time had passed. That chemistry was very much embedded into the film as well and that's what we loved about it so much. Their relationship is not only genuine but naturally funny. They make you laugh but they don't force it out of you; it happens very naturally throughout the movie which is what makes it such a good movie to watch.
"Murder Mystery" is an overall great film for the family because no matter what your age is, you will understand it and enjoy it. The film will have you trying to decipher who the murderer is only to be turned in another direction, and then an ultimate twist at the end! There is definitely drama involved because it does center around a murder, but it's also sprinkled with some natural comedy between Sandler and Aniston which makes for a perfect summer movie.
Don't miss "Murder Mystery" now streaming globally only on Netflix!