ANNABELLE COMES HOME Advance Screening Pass Giveaway!
EntertainmentAffair.com presents the ANNABELLE COMES HOME Advance Screening Pass Giveaway from Warner Bros. Pictures.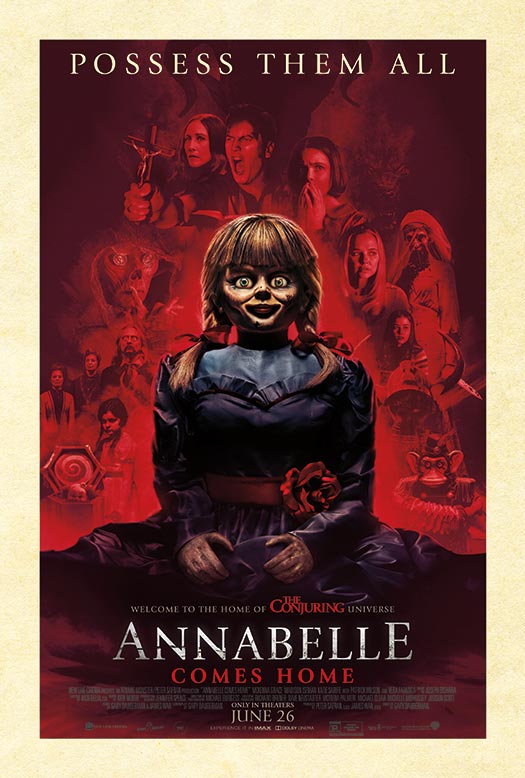 If you live or are in any of these cities we invite you to participate (El Paso, Dallas, Houston, Los Angeles, Miami, New York, San Antonio and San Jose). 
Download a first-come, first-served screening pass by clicking on the link for your city below. Screenings will take place on Monday, June 24.
Follow us on Facebook, Twitter, Instagram, and YouTube.
Dallas - Cinemark 17
El Paso - Cinemark 20
Houston - Edwards Houston Marq'E 23
Los Angeles - AMC Burbank 16
Miami - Cobb Dolphin 19
New York - AMC 34th Street 14
San Antonio - Santikos Casa Blanca
San Jose - AMC Eastridge 15
"Annabelle Comes Home" is the third installment of New Line Cinema's hugely successful "Annabelle" films starring the infamous sinister doll from the "Conjuring" universe. Gary Dauberman, the screenwriter of the "Annabelle" films, "IT" and "The Nun," makes his directorial debut on the film, which is produced by Peter Safran ("Aquaman"), who has produced all the films in the "Conjuring" franchise, and "Conjuring" universe creator James Wan ("Aquaman").
Determined to keep Annabelle from wreaking more havoc, demonologists Ed and Lorraine Warren bring the possessed doll to the locked artifacts room in their home, placing her "safely" behind sacred glass and enlisting a priest's holy blessing. But an unholy night of horror awaits as Annabelle awakens the evil spirits in the room, who all set their sights on a new target—the Warrens' ten-year-old daughter, Judy, and her friends.
Visit all ANNABELLE COMES HOME sites:
Visit the official website
Visit Annabelle on Facebook
Follow @annabellemovie on Twitter #AnnabelleComesHome
Annabelle Comes Home on June 26.