GOOD BOYS Advance Screening Pass Giveaway!
EntertainmentAffair.com presents the GOOD BOYS Advance Screening Pass Giveaway from Universal Pictures.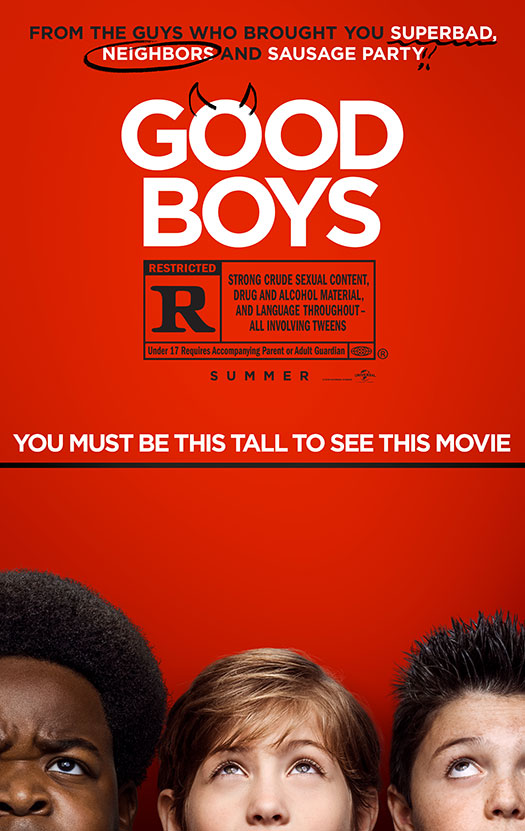 If you live or are in any of these cities we invite you to participate (Chicago, Dallas, Houston, Miami and New York).
Download a first-come, first-served screening pass by clicking on the link for your city below. Screenings will take place on Tuesday, August 13.
Follow us on Facebook, Twitter, Instagram, and YouTube.
Chicago - AMC Showplace Cicero 14
Dallas - Cinemark 17
Houston - AMC Gulf Pointe 30
Miami - Cobb Dolphin 19
New York - AMC Empire 25

The writers of SUPERBAD and the producers of SAUSAGE PARTY take on sixth grade in Universal Pictures' GOOD BOYS. After getting invited to their first kissing party, three best friends (Jacob Tremblay, Keith L. Williams, Brady Noon) accidentally destroy a drone they weren't allowed to touch. To replace it, they skip school and set off on an epic odyssey of bad decisions, involving inadvertently stolen drugs, the police, and lots of tears.
Visit all GOOD BOYS sites:
Visit the official website
Visit Good Boys on Facebook
Follow @GoodBoysMovie on Twitter #GoodBoysMovie
Good Boys in theaters August 16.