"It Chapter Two" All-New Immersive Experience Coming to Hollywood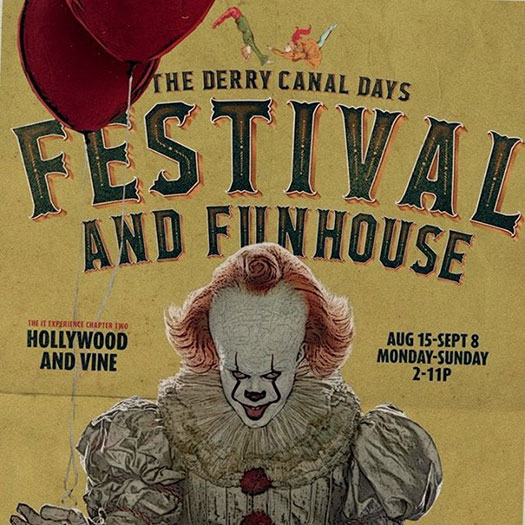 Two years ago, tens of thousands of fans lined up to enter the frightening realm of "IT," with the hugely popular first-of-its-kind Neibolt House Experience. Now, in anticipation of the September 6th opening of New Line Cinema's "IT Chapter Two," Derry is coming back to the heart of Hollywood. And for those who dare to enter, The IT Experience: Chapter Two promises even more fun…
From August 15 to September 8, fans of the top-grossing horror movie of all time can gear up for the finale with a trip to Derry's Canal Days Festival Fun House, re-creating a key set piece from the new film. The interactive "IT Chapter Two"-themed experience will serve up 40 minutes of spine-tingling entertainment that's not to be missed.
Play classic carnival games and step up to the photo-op Ferris Wheel. But only the bravest will enter the Fun House, where you never know who, or what, you might encounter. Face your fears as you navigate ten immersive rooms, including a deceptive hall of mirrors, sinister clown heavy bags, Derry's eerie sewers and much more.
While in the experience, at any moment, guests may encounter their "host," who could be around each twisted turn. After all, it's been 27 years and he's missed you…
Taking over the famed corner of Hollywood & Vine, The IT Experience: Chapter Two will be open from 2:00 PM to 11:00 PM daily, and admission is free. Reserved times will be available while they last, with a stand-by/walk-up line also in place. Reservations can be made at www.TheITExperienceChapterTwo.com. Those in the walk-up line who can show proof of an "IT Chapter Two" movie ticket purchase in the IMAX format will be allowed to join the reservation line. (The event is age 18+, but those age 17 can attend when accompanied by a parent, legal guardian or responsible adult.).