Telemundo to Premiere Limited Series "No Te Puedes Esconder"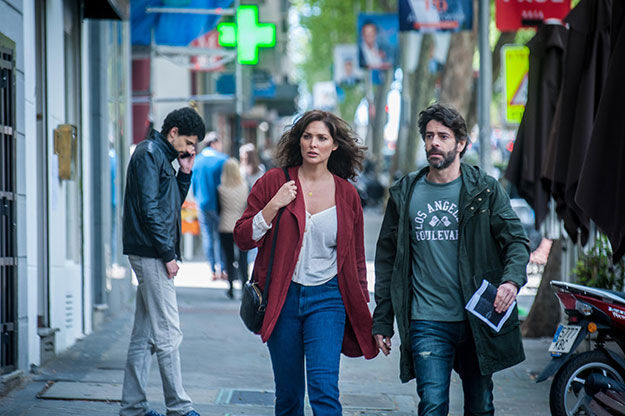 Telemundo announced the premiere of No te Puedes Esconder, a 10 episode  thriller produced by Telemundo International Studios featuring the return of beloved Mexican actress Blanca Soto (Señora Acero, Viuda Blanca, Dinner for Schmucks, Eva Luna) and the Telemundo debut of renowned Spanish actor Eduardo Noriega (Thesis, Vantage Point, The Last Stand, Transsiberian, The Translators) on Monday, September 30 at 10pm/9c.  Shot in México City and Madrid, Spain, the explosive thriller also features Iván Sánchez (La Reina del Sur, Yago, Señorita Pólvora), a stellar performance by Maribel Verdú (Pans Labyrinth, Y tú máma también, Belle Epoque, Tetro and Blancanieves), as well as Peter Vives (Velvet, Tiempo entre Costuras, Perfidius, Night and Day), Plutarco Haza (El Señor de los Cielos, El Secreto de Selena, Mirada de Mujer, Las Aparicio) Patricia Guirado, Samantha Siqueiros, Juan Caballero  (Servir y Proteger, La Sonata del Silencio and Vive Cantando) and Adrián Ladrón (Crónicas Chilangas, La 4ª Compañía and Diablo Guardián) among others.
Directed by Alejandro Bazzano, No te Puedes Esconder follows Monica (Blanca Soto), and her daughter Natalia (Samantha Siqueiros), as they flee Mexico to escape from their past, an abusive husband and a criminal network.  After establishing new identities in Madrid under the U.S. Federal Witness Protection Program, they begin to rebuild their lives.  Here, they will encounter a former policeman turned hitman, a photographer obsessed with death and a politician with forbidden relationships. All of them, unknowingly, are united by half-truths, which will expose their darker side as they cross paths, ultimately compromising their lives.
Joining Soto (Monica) and Eduardo Noriega (Daniel) are Iván Sánchez as Alex, Maribel Verdú as Inspector Urrutia, Peter Vives as Alberto Torres, Plutarco Haza as Sánchez, Samantha Siqueiros as Natalia, Patricia Guirado as Eli, Juan Caballero as Humberto, Adrián Ladrón as Hugo, Pere Ponce as Comisario, Gabriel Porras as De la Cruz, Julio Casados as Andres, Giuseppe Gamba Bertasio as Diego, Barbara Goenaga as Ana, Jorge Bosch as Velasco, Jordi Planas as Gabriel and Eduardo Trucco as Pete.