Luz Rios is ready to release "Liberación"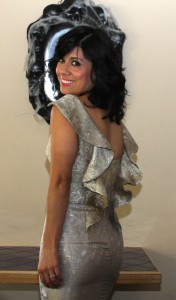 Mexican singer and songwriter Luz Rios is ready to release her highly anticipated album "Liberación" which hits stores January 2012. We had a chance to sit down with her to get an insight on her fun and sexy new style and her latest single "I Love You Boy".
The self proclaimed "tomboy" arrived in a sexy tight dress, which she explains, is all part of the new image she is presenting with her soon to be released album. "I'm always wearing jeans and a jacket. I wanted to explore my feminine side and since the album has that 50's California girl feel to it, I thought it would be a great opportunity to change my image to go accordingly." In the newly aired video for her latest single "I love you boy", Luz dazzles us with a retro-chic look while singing the upbeat song's verses which are in both in English and Spanish. "I would love crossover to the U.S. market eventually. Who knows? Maybe I'll surprise everybody with an all-English song in my next album."
The Latin Grammy nominated artist shows her versatility with an eclectic musical taste that widely ranges from opera to even reggae. "This album is called "Liberation" because I am freeing myself from many things. When it comes to my music, there are no limits in style and rhythm. I don't even know what to call this album because it is a fusion of many things. It's like guacamole mixed with sushi and everything else that tastes good and I like. It's a fun and uplifting album." Even though Luz attributes her style of music to various artists, she assures us that she is most inspired by Mariachi music. "I believe this musical style is the most passionate and powerful of them all. I try to fuse that emotion into pop music." While her new album will be "playful", Luz guarantees her lyrics will always be honest and they will never be compromised by anything.
Luz's true passion will always be her music; nonetheless she would also like to develop upcoming Latin artists. "I always keep an eye open for new talent. It has always been a second dream of mine to take on Latin talent under my wing and teach them, well, the little I know." Luz would love to collaborate with other artists such as Juanes, Julieta Venegas, and Katy Perry, and even though nothing has been confirmed yet, she admitted that a meeting with Puerto Rican singer and songwriter, Kany Garcia will be in the works very soon.
For more on Luz Rios visit:
www.luzrios.com
www.facebook.com/luzrios
www.youtube.com/musicadeluz
www.myspace.com/luzrios
@LUZRIOS