Óscar Jaenada on 'Pirates of the Caribbean: On Stranger Tides'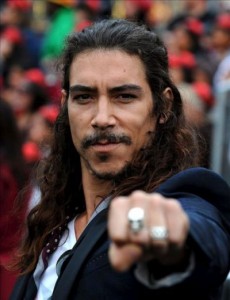 'Pirates of the Caribbean: On Stranger Tides', the latest addition to the incredibly successful Pirates of the Caribbean franchise, will be released on high definition Blu-ray, eye-popping Blu-ray 3D and Movie download on October 18th.
This time around we embark on an adventure-filled ride with Captain Jack Sparrow as he searches for the Fountain of Youth. Back as Captain Jack Sparrow, Johnny Depp returns leading a sensational cast that includes Penélope Cruz, Geoffrey Rush, Ian McShane and more.
Entertainment Affair had the opportunity of talking with Spanish actor, Óscar Jaenada, who plays the role of El Español in the film. Jaenada is one of the most recognized actors in Spain. Working in theater, television and film, his career spans for over two decades.
Entertainment Affair: You had the opportunity to work with producer Jerry Bruckheimer and director Rob Marshall, both Award winners and highly successful. How did it feel working with them?
Oscar Jaenada: To have a producer or a director interested in my work or career is a very gratifying feeling. Whether it's a well known director like Rob Marshall or an unknown director, their interest in me is what will open the door to having a great relationship with them. With Rob Marshall, particularly, I had a great connection as he knew who I was and what I could give in this role. With Jerry [Bruckheimer I've only had 3 meetings, but he seems like a very smart guy who knows what to do and the success he has is understandable.
EA: How was it to be part of a super star cast led by Johnny Deep?
OJ: Having worked with Johnny [Depp or Geoffrey [Rush or Ian McShane, obviously strengthens you, pleases you, gives you energy and allows you, or at least makes you believe that you are at their same level.
EA: How about working with Penelope Cruz? Have you guys worked together before, back home?
OJ: I was eager to work with Penelope. We've known each other for 15 years, we coincide in various festivals, giving and receiving awards but have never worked together. In fact the first scene we shot together, we hugged and we were [in disbelief that it had to be here [in a US film set, right? [Laughs After so many years living in the same city and making the same kind of cinema, we get to work together [for the first time here. It was funny and nice!
EA: What kind of impact, personal and professional, has it been to be part of the 'Pirates of the Caribbean' franchise?
OJ: On a personal level, I'm discovering a type of cinema that I had never worked on. I was only working on European cinema or American independent films. To be part of a high budget production like this is something new to me and a very rewarding experience. To talk about American cinema without having experienced Hollywood filmmaking, without having experienced working in a movie of this caliber is not right. I can now speak properly about film making after being part of this production. On a professional level, it changes everything. It puts me in another league. A role like this has world-wide media exposure. For the American audience my career starts now, but I've been working in film for many years in Spain, South America and Europe. So, on a professional level, the only thing I have achieved is an expansion of my career.
EA: Any future projects or upcoming films?
OJ: Right now I have two movies about to be released. One with Bruce Willis, Sigourney Weaver and Henry Cavill called 'The Cold Light of Day' and the Spanish movie called 'Buscando a Eimish'.  Projects are just that, projects. Until I'm not on set shooting, everything remains a project.
EA: One last question. Out of curiosity... Is it true you'll be portraying Cantinflas on the big screen?
OJ: Like I said before, I have lots of projects. Some get shot down, others slow down, and most are up in the air until we are on set shooting. I will simply say that, yes, it [Cantinflas is one of the parts I'm working on right now.