Alih Jey Sings Theme Song for ABC Show "Suburgatory"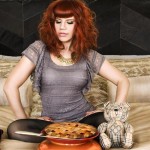 Millions of ABC viewers can hear Alih Jey's beautiful voice every Wednesday night on the theme song "Pleasant Nightmare" of the new ABC hit show, Suburgatory. "Pleasant Nightmare" was written by Jared Faber and Emily Kapnek, and produced by Jared Faber.
The irresistible new series features Jeremy Sisto (Six Feed Under, Rome), Cheryl Hines (Curb Your Enthusiasm) and newcomer Jane Levy; it follows a single father (Sisto) who finds his daughter is growing up a little too fast for his liking in New York City and promptly relocates to the Stepford-esque world of the suburbs to provide her a "better" life, to unexpected and often hilarious results. The show also features Ana Gasteyer of Saturday Night Live fame.
Miami-based Alih Jey, described by the Miami Herald as "one of the most complete and talented artists of the Miami music industry" and by the New Times as "a bilingual firecracker of a girl" has gleefully hopped fence after cementing her place in Latin music by releasing her first English language album and pursuing a wide range of new projects coast to coast. It's a natural move for the fiery Dominican singer/songwriter who, after parting with label Universal Music Latino, made a firm and resounding 'I'm here' with 2008's Necia, the self-made 'little EP that could.' The independent debut earned her a Latin Grammy Nomination for Best Rock Solo Vocal Album, and actually made her the first Dominican artist ever to be nominated in the category.
Recently the talented singer has also been featured singing back-up vocals for the iconic Gloria Estefan for her new smash hit "Wepa" ft. Pitbul on the Tonight Show, and for the renowned Latin pop rocker Aleks Syntek on his current tour.
Tune in to Suburgatory every Wednesday night 8 pm PST.