A Chat with Naturi Naughton & Lela Loren from the STARZ Original Series 'Power'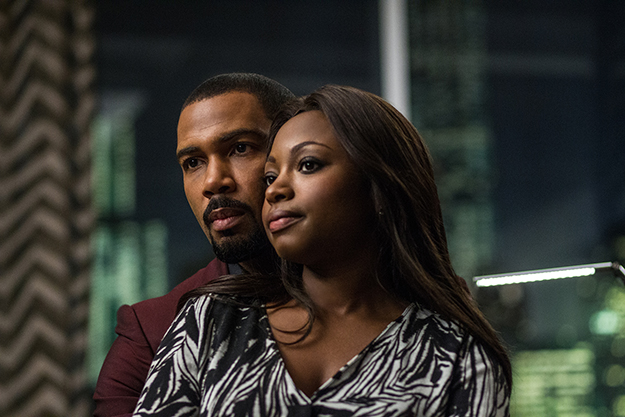 From executive producer Curtis "50 Cent" Jackson and show creator Courtney Kemp Agboh (The Good Wife) comes what many are calling summers hottest new show, Power. As if the title wasn't enough, the cast is versatile and the list of characters is as culturally dynamic as it's ever going to get. From Puerto Rico, Luis Antonio Ramos plays Carlos Ruiz "Vibora", a leader of a Puerto Rican gang in New York City all the way to Enrique Murciano, who plays Felipe Lobos, the leader of a Mexican drug cartel. What the two have in common is the association with one man, James St. "Ghost" Patrick. Power follows the life of Ghost, a man who created a drug empire with his best friend Tommy (Joseph Sikora) out of nothing. The two opened one of the hottest clubs in the city and while he uses it as a "front to wash money", he hopes and longs for "the path not chosen".
I sat down with Power's leading ladies Naturi Naughton, who plays Tasha, Ghost's wife and confidant and Lela Loren, who plays Angela Valdes, Ghost's first love who comes back into his life after eighteen years; the pair describes Power as "sexy and real."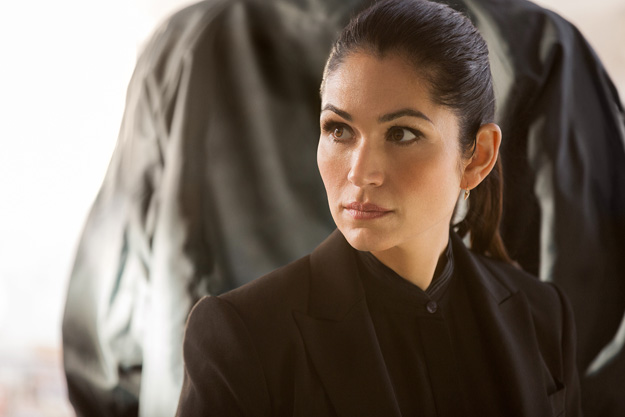 Jessica Ferrer for Entertainment Affair: Both of your characters Angela Valdes and Tasha St. Patrick are different. Yet at the end of the day, you're both two strong females doing what you need to do to survive. How would you describe your characters as individuals? How different are they really from each other?
Lela Loren: I think Angela from a very young age chose the path of discipline, ambition, academics, success, in terms of her career path and she sort of cut off a female central side to herself in order to excel in that. She's in a man's world but also she can be incredibly selfish sometimes. She's a bit hard. She denies a certain longing that we sort of later see how that takes shape. But I think she's similar to Tasha in that all of us are trying to find our way and we're trying to find a life that we like… At the same as much as we want to pretend that we have it all together, we are incredibly vulnerable and we all have longing whether we want to acknowledge it or not.
Naturi Naughton: Tasha, although strong and fierce, she actually kind of gave up some of her aspirations and her ambition, which one of them was to be a professional singer for Ghost and his world. She literally put herself in Ghosts world and helps him build his drug empire… So she really gives up some of her dreams to be his wife, to be a mother, to be his ride or die. You know, gangster wife! That's one of the things that's interesting and unique because she definitely has aspirations and ambitions, but different from Angela's characters, is that she channels that into someone else.
EA: Naturi, you began your career in the music industry and have made a name for yourself in both music and TV, how has that transition been like for you?
NN: A blessing! I'm really fortunate to actually say that I've done some quality work and I haven't had to sacrifice my dreams and my aspirations too much or compromise, essentially what I mean. I love to sing. I've always loved music. I always wanted to be an actress so I always kind of knew I could fuse the worlds together or at least had hope so. I had people surrounding me that really believed in me too.
EA: Will we get to hear your music side in Power?
NN: I do get to sing in the show!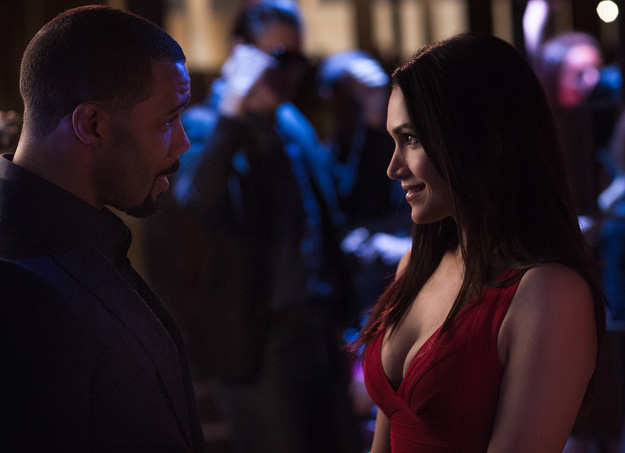 EA: Lela, being born and raised in California, the Puerto Rican accent, especially from New York is one you don't get plenty of around here. How does it feel to play a Puerto Rican female straight from Queens, NY?
LL: I had to learn all of that. We had wonderful dialect coaches from the Bronx or from the neighborhoods. They did such a great job, because Puerto Rican culture is very specific.
EA: Did you feel or have any pressures on taking on this role?
LL: I think I put a lot of pressure in myself because one of my biggest pet peeves, you know when I hear a completely incorrect accent trying to be passed out as the other and so I did my best to not fall into that category… We worked really hard because when something gets labeled ethnic there's just a wash and they don't distinguish between all the different, you know the differences. I have played Puerto Rican before; I got to do a play with Jose Rivera, but it was from the island… It really made me an awe of New York in what a melting pot it is because at least in California things are so much more segregated and different and particularly in Northern California, where I grew up.
EA: Minorities are really diving into the big screen. You have fallen into that pool, also and especially as female minorities to be not just an extra or supporting role, but two leading ladies, what's that like?
LL: It's so nice because were so used to before trying to make something that is one-dimensional, multilayered. Like so many times you get a role that's not flushed out and you try to give it as much depth as you can so when you get to dive into something that seemingly has no bottom, it's just a joy.
NN: Yea, I agree. I think that for me being an African American woman it's so like refreshing to just have a role like this and to work with so many kinds of people. I loved that they had Spanish in the show when I read the first script. Because I grew up in Jersey and a lot of my friends were Puerto Rican specifically, like real Puerto Ricans and I thought I was kinda Puerto Rican in my head sometimes… New York City is such a multicultural place so I was so excited that this show was keeping it real. And showing women that are strong and complex, you know we deal with many different things… There's not perfection here. These women are real women.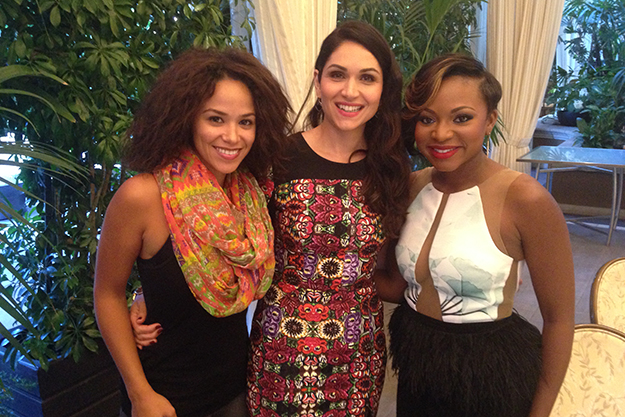 EA: There's quite the sexual content in the show. Does it ever get intimidating for you stripping down when the cameras are rolling and is there any emotional preparation that goes along with it?
NN: Yes! Totally, We all have very sexual scenes. For me, I think a lot of my stuff happens in the beginning of the show because me and Ghost have a very passionate relationship. Sexually, it's something that it took me a second to digest… but it's nerve-wracking, it's scary, it's hard, it's challenging because anybody doesn't want to necessarily be bared completely to the world in such a vulnerable, raw way… I ask pertinent questions and just find ways to think about me as the actress and not me as a person.
LL: I think sex scenes the best they ever get is that you get to a certain degree and safety with the other actor that you get to make fun of each other in between takes. Like that's like the best that it gets!
NN: It's always gonna be awkward!
LL: Yea, but you know I think that the thing that you struggle with is that there is still sort of a taboo in our culture and you're really afraid that you're going to be judged as a woman, as an artist. And then at the same time I have to remind myself that when nudity and sexuality is done well in the terms of the story line, it creates such a level of intimacy in the story and I always really appreciate it.
This provocative and culturally diverse series has been highly anticipated, but the wait is finally over. Power debuts Saturday, June 7th on Starz with the release of Curtis '50 Cent' Jackson's new music video.