SPLIT Advance Screening Pass Giveaway!
EntertainmentAffair.com presents the SPLIT Advance Screening Pass Giveaway from Universal Pictures.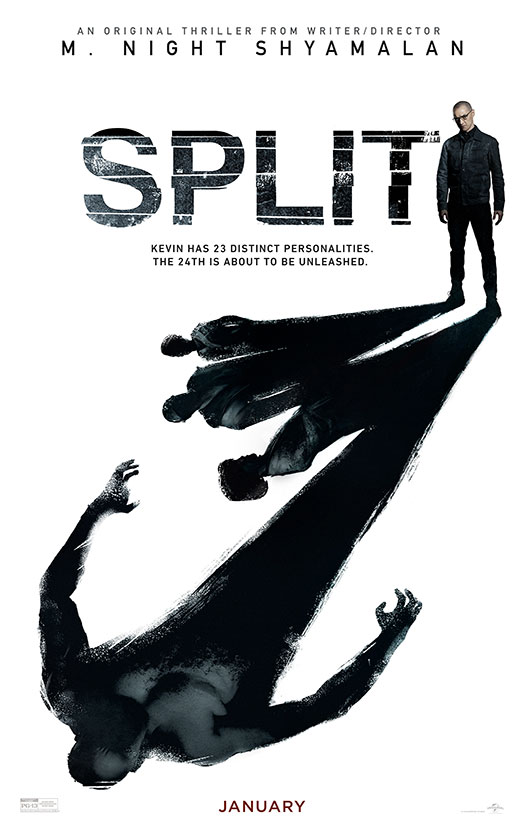 If you live or are in any of these cities we invite you to participate (Chicago, Dallas, Houston, Los Angeles, Miami and New York).
Download a first-come, first-served screening pass by clicking on the link for your city below. Screenings will take place on Wednesday, January 18.
Follow the instructions in your pass and share your excitement using #Split.
Chicago - Regal City North Stadium 14 IMAX & RPX
Dallas - Cinemark 17 & IMAX Theatre
Houston - Edwards Houston Marq'E
Los Angeles - Edwards South Gate Stadium 20 & IMAX
Miami - Cobb Theatres Dolphin 19 Cinema
New York - Regal Union Square
Writer/director/producer M. Night Shyamalan returns to the captivating grip of The Sixth Sense, Unbreakable and Signs with Split, an original thriller that delves into the mysterious recesses of one man's fractured, gifted mind. Following last year's breakout hit The Visit, Shyamalan reunites with producer Jason Blum (The Purge and Insidious series, The Gift) for the film.
While the mental divisions of those with dissociative identity disorder have long fascinated and eluded science, it is believed that some can also manifest unique physical attributes for each personality, a cognitive and physiological prism within a single being.
Though Kevin (James McAvoy) has evidenced 23 personalities to his trusted psychiatrist, Dr. Fletcher (Betty Buckley), there remains one still submerged who is set to materialize and dominate all the others. Compelled to abduct three teenage girls led by the willful, observant Casey (Anya Taylor-Joy, The Witch), Kevin reaches a war for survival among all of those contained within him—as well as everyone around him—as the walls between his compartments shatter apart.
Visit all SPLIT sites:
Visit the official website
Visit Split on Facebook
Follow @splitmovie on Twitter #Split
Split is in theaters January 20.