Stars Jamie Foxx, Michelle Monaghan and Director Talk Action Thriller 'Sleepless'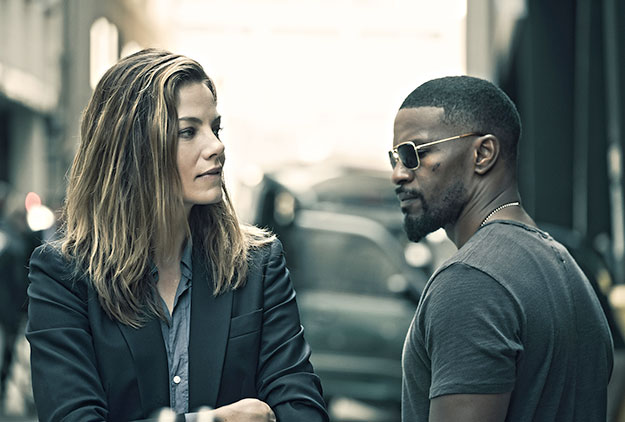 For the ones who've been long craving an action thriller that gets your heart raising, Sleepless draws you into the story of an undercover cop whose work and family are jeopardized in a sleepless night. The screenplay, written by Andrea Berloff (Straight Outta Compton), is adapted from Frederic Jardin's 2011 French film Sleepless Night ("Nuit Blanche"). While on its third remake, this is the first American version. It highlights humor and action scenes we haven't seen much of in a while.
German director Baran bo Odar tells us he likes the new exploration of this film. "I really enjoyed it because it was something I was looking forward to do. Like a real proper action thriller, which doesn't try to be anything else, but just be a fun action thriller." Sleepless stars Jamie Foxx as Vincent (undercover cop) and Michelle Monaghan as Jennifer Bryant (internal affairs). The dynamic working on set with both Michelle and Jamie was energetic. Particularly with Jamie (who Baran evidently admires) describes, "It's very positive-challenging because he's such an entertainer." Even when he's tired he still works hard and finds energy. "I think even in his sleep he would entertain himself," jokes Baran. "Once you actually say action, he's so focused and he's totally into the role." 
There are more than two bad guys in this film, making the job for Officer Vincent more than challenging. All that while dealing with both (work) internal affairs and family affairs. Without spoilers, Dermot Mulroney plays casino owner Stanley Rubino. A bad guy who's not hard to empathize with and Scoot McNairy is Novak. Someone who in comparison to Rubino, you won't find much empathy for. Baran tells us about working with Scoot. "I think he's one of the best actors of his generation. He's so good." He tells us that Scoot was grateful to have a role as the bad guy for a change, since he's "usually the book worm."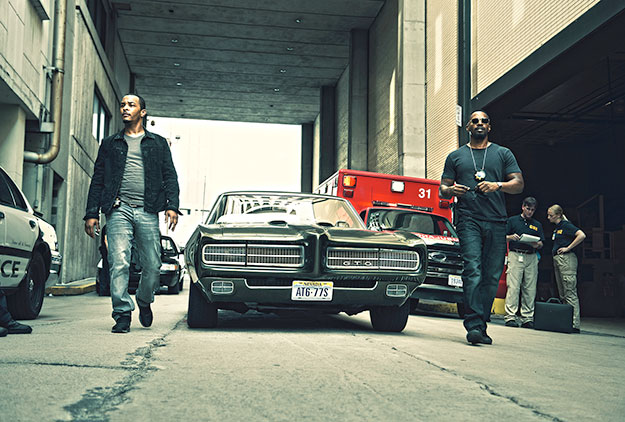 The dynamic on set was lively and energetic as Baran and stars Michelle and Jamie express. Monaghan, who admits she doesn't necessarily seek a specific genre, tells us this was a specific role that she hadn't had the opportunity to play yet. "It was like a role of females that you don't often times see," she says. "She's very frustrated and when she runs into him [Officer Vincent], she's immediately suspicious and she jumps on his tail like she wants to sort of redeem herself and probably to her own detriment is slightly flawed." 
Vincent's son gets taken away from him. As a father, Jamie does admit he did think about it. "You do think about your kids… With Octavius [onscreen son] we had to really sort of bond as a father-son." Two who didn't have much bonding was his character Vincent and Jennifer. One of the scenes in the film involves a fight scene, which the two admit did result in "injury". Michelle tells us she liked the challenge and "trained really intensely for a couple of months." She admits, "I did actually connect with his face and chipped his tooth unfortunately. But it was a lot fun." Foxx adds, "She did clock me in the tooth, which is actually not my tooth. This is all porcelain." Luckily for both of them, Jamie's best friend happens to be a dentist. Michelle continues, "The next day I was trying to sneak a peak and i look at it, I'm like 'It's fine. did he grow his tooth back!" In between laughs, the two gracefully say they had a good time shooting the film and agree the surrounding cast was a lot of fun. These include, Gabrielle Union as Dena (Vincent's wife), Tim Connolly as McFerrin, T.I. as Sean Cass, and David Harbour as Doug Dennison.
Sleepless opens in theaters on Friday, January 13th.