Viacom Opens New West Coast Headquarters in Hollywood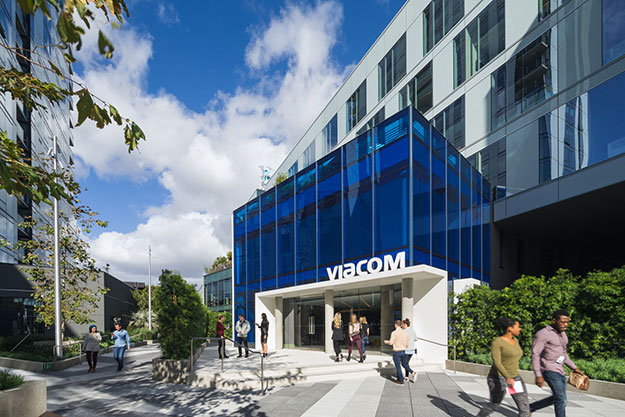 Viacom Inc. officially opened the west coast headquarters for eight of its major brands including MTV, Comedy Central, BET, VH1, Spike, TV Land, CMT and Logo last Thursday with an outdoor celebration featuring performances by Flo Rida and DJ Snoopadelic. The event marks Viacom's move into a brand new 210,000 square foot facility at Kilroy Realty Corporation's Columbia Square, located at 1575 North Gower at the intersection of Sunset Boulevard and Gower Street.
"This new Hollywood facility reinforces our presence in the world's entertainment capital, connecting us more deeply with the creative community and bringing inspiration for our employees, who help us deliver world-class entertainment and unforgettable stories to our audiences every day," said Viacom President and CEO Bob Bakish. "We wanted to create a space that encourages collaboration, creativity and innovation, and gives creators and employees the tools they need to do their best work."
The building has already achieved LEED Gold Core and Shell certification and Viacom is targeting LEED Gold Commercial Interiors certification and offers highly collaborative, state-of-the-art studio and workspace. Approximately 850 Viacom employees will be based in the new building. Designed with creativity and collaboration at the forefront, the space allows Viacom employees to seek inspiration -- unbound by traditional office walls and wired technology. They can take advantage of indoor and outdoor working spaces, state-of-the-art video technology and 83 conference rooms of varying sizes throughout the building.
Situated on the historically rich site of the original CBS Studios, the building features floor to ceiling windows on all six floors. Filled with natural light, Viacom's new space offers panoramic views that extend from the legendary Hollywood sign, to downtown Los Angeles, all the way to the Pacific Ocean (on a clear day).
Viacom is also making its presence known in the Hollywood skyline with fully-lit 10-foot high blue "Viacom" signs facing both north and south atop the new headquarters building.
"When I look at Viacom today, I could not be more pleased to see the reemergence of that wonderful, incredible culture that has always been the lynchpin of our success," said Non-Executive Vice Chair of the Viacom Board Shari Redstone, who addressed employees after Bakish. "There is so much opportunity ahead of us. This office speaks to the best of Viacom, the future of our great brands and the potential that lies ahead."