Voodoo Doughnut Now Open at Universal CityWalk Hollywood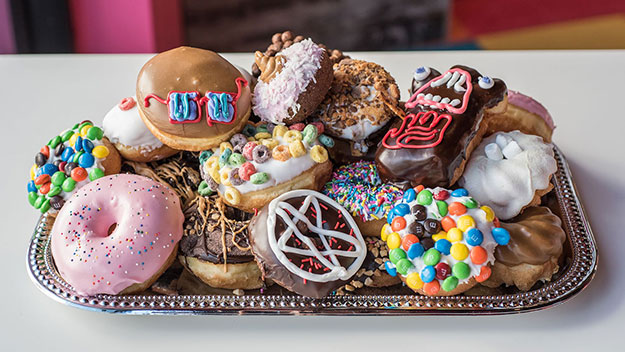 Good things come in pink boxes is Voodoo Doughnut's mantra as the irreverent, world famous pastry shop sweetens up Universal CityWalk with its first-ever California location, situated adjacent to Universal Studios Hollywood, The Entertainment Capital of L.A.
Hailing originally from Portland, Oregon by founders Kenneth "Cat Daddy" Pogson and Tres Shannon, the new L.A. pastry shop serves a range of 60 eclectic doughnuts, including vegan options and the Hollywood Cream, created for Universal CityWalk.
A variety of scrumptious flavored doughnuts are available, such as Grape Ape, Mango Tango, the Voodoo Bubble and Bacon Maple Bar as well as their iconic Voodoo Doll. A popular take-out option, Voodoo Doughnuts are served in signature pink boxes or in a custom-made wooden coffin.
The new location also features another Portland specialty: Stumptown coffee, which brews regularly from the first-ever pink Stumptown espresso machine located exclusively at Universal CityWalk's Voodoo Doughnut.
Keeping with their longstanding tradition, Voodoo Doughnut helps celebrate marital bliss by hosting weddings ceremonies, complete with a doughnut and coffee catered reception.
The new Voodoo Doughnut shop finds its sweet spot at the inimitable Universal CityWalk, located near the "5 Towers" outdoor concert stage and adjacent to Universal Cinema, which recently completed a multi-million dollar renovation and features deluxe recliner seating.
Voodoo Doughnut has expanded to multiple U.S. cities in Eugene, Ore., Denver, Colo., and Austin, Texas. The CityWalk location marks their first California establishment.