Roselyn Sánchez Discusses "Sebi y La Tierra del Chachacha!" at BUILD Series' First Spanish-Speaking Event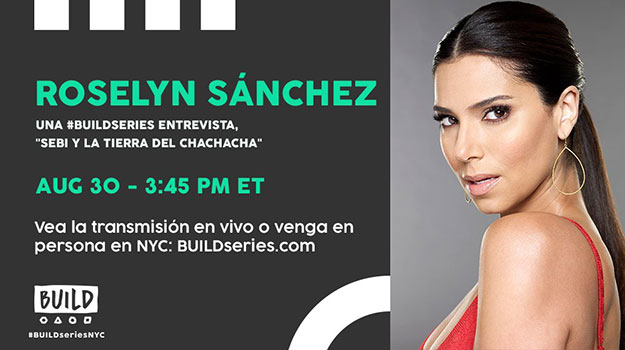 Roselyn Sánchez revealed her influences for co-writing the new children's book "Sebi y La Tierra Del Chachacha" today at the BUILD Studio in NYC. The book is largely based on her own experience introducing Latin dance to her daughter, Sebella, with actor Eric Winter. Below is a clip from her discussion at BUILD Series' first Spanish-Speaking event.
Es el carnaval Latino y Sebi está entusiasmada. Le gustan los trajes llenos de color, la alegre música, pero, sobre todo, le encantan los bailes. Su mamá le dice que todavía es muy pequeña para tomar clases de baile. Sin embargo, cuando una hermosa cotorra aparece volando y invita a Sebi y a su amigo Keeke a que la sigan, los conduce, viviendo una emocionante aventura, a una tierra encantada, ¡donde los bailes y la diversión recién han comenzado! ¡Ideal para los niños que aman el baile! Vea actriz y madre, Roselyn Sánchez, cuando habla de su libro pa niños, "Sebi y La Tierra Del Chachacha."
It is El Carnaval Latino and Sebi is really excited. She loves the colorful clothes, the lively music but most of all she loves the dance. Her mother says she is a bit too young to take dance lessons. But when a beautiful Cotorra bird flies by and invites her and her friend, Keeke to follow, they are led on an exciting adventure to an enchanted land where the dancing fun has just begun! Perfect for young children who love to dance! Join actor Roselyn Sánchez as she discusses their bilingual children's book "Sebi and the Land of Cha Cha Cha."
About BUILD Series
BUILD Series is a cultural platform created to connect the most compelling, interesting and influential creators in the world with their fans and audiences featuring the biggest names in entertainment, tech, fashion and business as they share the stories behind their projects and passions. Every conversation yields insights, inspiration and plenty of surprises as moderators and audience members ask questions. It all happens several times a week from the BUILD Studio in NYC and live-streamed at BUILDSeries.com.