Cast and Crew Behind Disney•Pixar's "Coco" Gather for Press Conference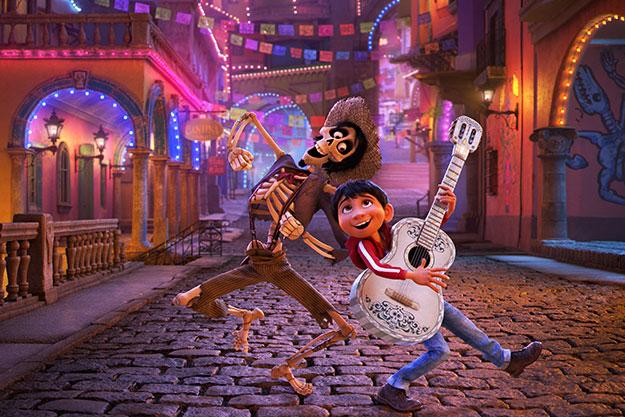 Entertainment Affair had to opportunity to attend the global press conference of Disney's newest jewel 'Coco' with an amazing cast voicing the characters of the film including Gael Garcia Bernal (Hector), Benjamin Bratt (Ernesto de la Cruz),  Anthony Gonzalez (Miguel), Edward James Olmos (Chicharron) and Alanna Ubach (Mama Imelda) and with a quite impressive event with dancers and mariachis opening up the conference where then we got to talk to some of the cast, the writer, the director and the producers of the film.
'Coco' centers on the story of Miguel (Anthony Gonzalez) a kid with big dreams and an amazing talent for music that was constantly influenced by his idol, Ernesto de la Cruz (Benjamin Bratt ). Because of some generation old family history Miguel and the rest of the family were forbidden from the music world completely without even been able to question the reasons why. Desperate to prove his talent and to detach from his family traditions that at the moment seem bothersome to him, he ends up in the beautiful and colorful 'Land of the Dead'. In this mystical world Miguel finds his true self and what really matters through an extraordinary journey with some friends that helped him along the way.
'Coco' will definitely pull tears down the cheeks of even the toughest person so don't try to fight it, let them drop. It gets to the center of your heart and soul, stirs years and decades of your own history from your memory files and connects you to Miguel and his quest, even if you have never followed the tradition of Dia de los Muertos and even if you're not mexican, it will definitely make you come closer to the real important things in life that you really treasure in your heart.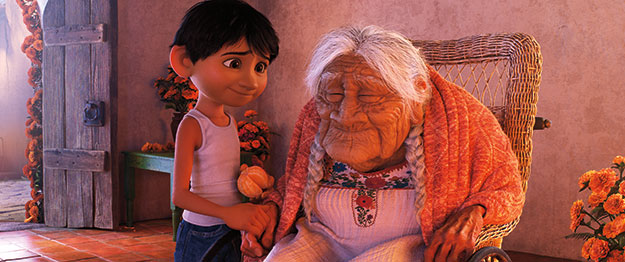 Below are some of the conversations we had about the film at the conference with the cast and crew.
On the themes that drew the creators to the film:
Lee Unkrich (director): "The more that I dug in, the more that I learned about how central family is to this celebration, and that Dia de Muertos is all about this tradition that we all have to remember our loved ones, and to pass their stories along. And I just really started to see the potential to tell a unique story, to tell a story that could only be told in animation, that could be visually dazzling, but also had the potential to have a real emotional core to it."
Adrian Molina (co-director): "It's just one of those ideas that ticked off so many things, or checked off the boxes of so many things that I've always wanted to see in a film, that it deals so strongly with this idea of family, Miguel and his musical passion, and especially the expression of these Mexican traditions.  The way we work at Pixar, it's such a collaborative effort, and to be able to work with all of these actors, all of these musicians, and to really bring to life this culture on screen was something that I was thrilled by."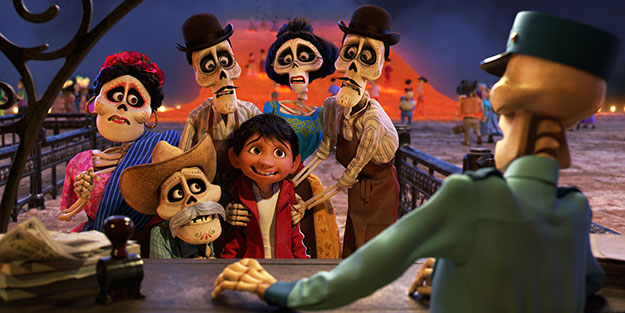 On bringing skeletons to life through voice and their inspiration for their characters:
Benjamin Bratt: "The first inspiration you draw from is the image that they create.... So with just this to work with, you have to pull on all kinds of other things. So I start with the images they created. And clearly, this guy, even in a skeleton form, he's got swagger, you know. So – so it's easy to kind of adopt that idea, principally. But beyond that, Lee, and Adrian, and Darla pointed me in the direction of studying some of the movie clips of Pedro Infante, and Jorge Negrete. These were film stars, and music stars, in the equivalent strata of someone like Frank Sinatra."
Edward James Olmos: "And you know, nobody – you know, they told me the story, but they never gave me any of the information that the story really projected, other than the fact that this young boy wanted to be a singer, and his family wasn't supporting him, and he ends up inside of this world.... And as it went along, and I – then my part came in, and I said, "Oh, my God," I felt emotional for this guy. And Chicharron became, within a matter of a minute and a half to two minutes, became someone that I could identify with, you know – a relative, a friend, a person."
Anthony Gonzalez: "Well, when I knew that I was gonna sing that day in the booth, I would get so excited, because you know, I love to sing, and especially these wonderful songs that Adrian Molina, Germaine Franco, and other people made – they're just, they're just incredible messages.... And for me, my grandfather passed away when I was six years old, and he was very special to me because he would always support me in my music career. And so yeah, every time I would come to sing like, songs, it would remind me of him, and it would make me feel like he was there, and he was present with me."
Alanna  Ubach: "It's one with a personal connection (La LLorona song). That was the one song my mother would sing to me before putting me to bed."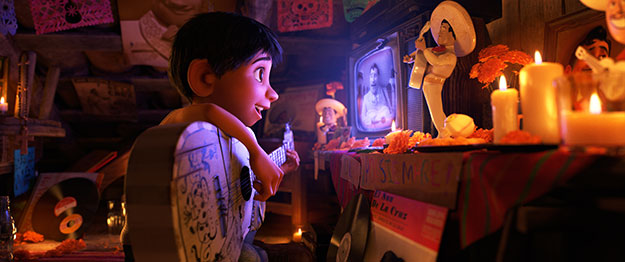 On the impact the film will have on latino youth:
Gael Garcia Bernal: "I mean, if I have to do a very personal dedication, this film is for the kids, the Latino kids growing in the United States, because in the official narrative, it's been said that their parents, or grandparents, or great-grandparents are rapists, murderers, drug traffickers....  And this film ... it's gonna give kids a way to feel confident of where they come from, of where their parents, great-grandparents, grandparents come from, to know that they come from a very sophisticated culture, and to know that they have the possibility to always have access to that hive ... of life, and that they can come up with new answers to what's needed in life that we, as humanity, need right now."
Edward James Olmos: " People are gonna say thank you to the Mexican culture for introducing them to a value that they did not know anything about. We celebrate Halloween. We dress up, and you know, we go out, and we... Trick or treat... the 'Day of the Dead' represents for many of us, a time to pass on stories and celebrate life to its fullest...You know, the last two years have been very difficult for us. But you know, you try to stay strong. Knowing that the pendulum swung one way, it's gonna swing back. And when it does, it'll have a different reaction, and we'll have another sense of who we are. This movie placed us in a very strong position for the future. "          
Disney•Pixar's Coco opens in theatres in 3D November 22.