Puerto Rican Theatre Company to Perform in Los Angeles After Hurricane María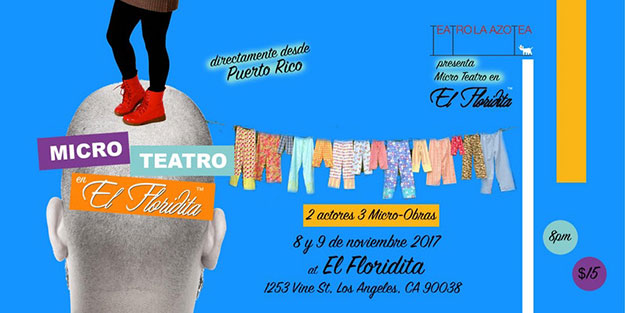 Directly from Puerto Rico theater company Teatro la azotea (Rooftop Theater), launches tree plays of their very own Micro- theater repertory at El Floridita (Vine St., LA).
Following the devastation of Hurricane María in Puerto Rico, many local artists have had to "look out-side the box" in order to continue their artistic work. Alejandra and Heriberto are a vivid example of this. On October 14 the founders of the acclaimed Puerto Rican theater company brought a one-way ticket to Los Angeles, CA, ready to share their artistic work.
Teatro la azotea was founded in 2012 by Alejandra Ramos and Heriberto Feliciano in San Juan, Puerto Rico. The company was launched after four successful rounds of Micro-teatro en la azotea over two seasons. Teatro la azotea developed an initial repertoire of micro-plays, providing the setup for their dream theater company. The primary playwright of the micro plays of Teatro la azotea, is its co-founder Alejandra Ramos author of La azotea: 10 piezas cortas de teatro (2016 Ed. Callejón). The plays are directed by both company founders. The reward of the hard work by this new generation of theater makers was an invitation to participate in international festival such as Ciclo Internacional de Pequeño Formato, an international festival organized by Teatro Circo (Spain, 2013). And a artist in residence presentation at Pregones/PRTT (2014) becoming one of the companies representing Puerto Rico in the 2014 launch of 21 Islands.
Art is a strong relief for hard times, join us in a special theater event full of joy and excitement. Three original micro-plays, two actors, one outstanding night. The event will take place at El Floridita,(1253 Vine St., Los Angeles CA, 90038), November 8th at 8pm. Get your tickets at eventbrite.com, or at the door for only $15!
*Please be aware this is a spanish spoken show.