FERDINAND Advance Screening Pass Giveaway!
EntertainmentAffair.com presents the FERDINAND Advance Screening Pass Giveaway from Twentieth Century Fox.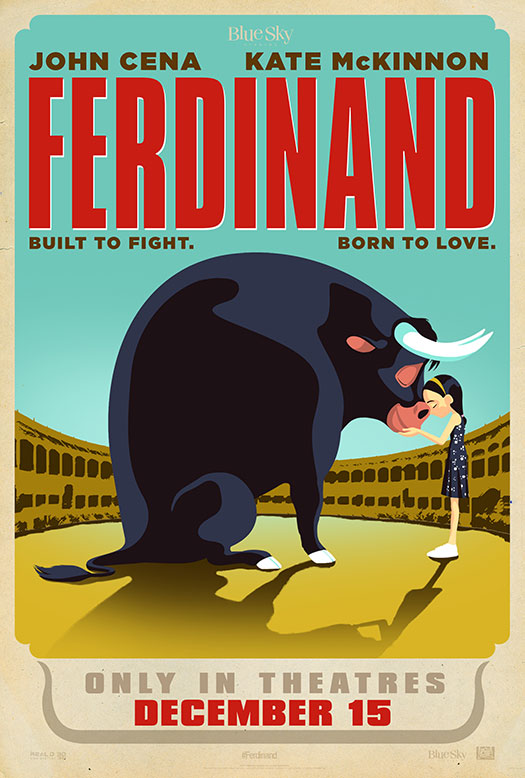 If you live or are in any of these cities we invite you to participate (Chicago, Dallas, Houston, Los Angeles, Miami and New York City).
Download a first-come, first-served screening pass by clicking on the link for your city below. Screenings will take place on Saturday, December 9.
Follow the instructions in your pass and share your excitement using #Ferdinand.
Chicago - AMC Showplace Cicero 14
Dallas - AMC NorthPark 15
Houston - AMC Studio 30
Los Angeles - Edwards South Gate Stadium 20 & IMAX
Miami - Cobb Dolphin 19 & IMAX
New York City - Regal Union Square Stadium 14
FERDINAND tells the story of a giant bull with a big heart. After being mistaken for a dangerous beast, he is captured and torn from his home. Determined to return to his family, he rallies a misfit team on the ultimate adventure. Set in Spain, Ferdinand proves you can't judge a bull by its cover.
From Blue Sky Studios and Carlos Saldanha, the director of "Rio" and inspired by the beloved book "The Story of Ferdinand" by Munro Leaf and Robert Lawson, "Ferdinand" is a heartwarming animated comedy adventure with an all-star cast that includes John Cena, Kate McKinnon, Gina Rodriguez, Anthony Anderson and many more.
Visit all FERDINAND sites:
Visit the official website
Visit Ferdinand on Facebook
Follow @FerdinandMovie on Twitter #Ferdinand
Ferdinand hits theaters everywhere on December 15.