INTERVIEW: Allegra Acosta and Ariela Barer Talk Marvel's Runaways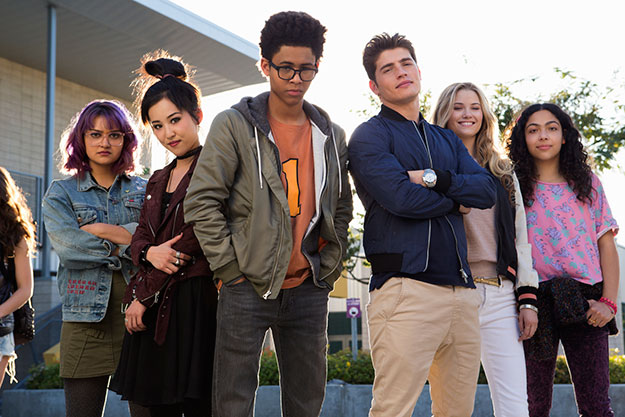 Marvel's 'Runaways', is a web television series created for Hulu by Josh Schwartz and Stephanie Savage, based on the Marvel Comics superhero team of the same name, 'Runaways'. It is set in the Marvel Cinematic Universe (MCU), sharing continuity with the films and other television series of the franchise.
Featuring a staggering cast of 16 series regulars, 'Runaways' centers on a group of six teenagers from different backgrounds who unite against their parents — the quietly brilliant Alex Wilder (Rhenzy Feliz), the good-hearted jock Chase Stein (Gregg Sulkin), the social justice warrior Gert Yorkes (Ariela Barer), the golden child Karolina Dean (Virginia Gardner), the shockingly strong Molly Hernandez (Allegra Acosta) and the brooding leader Nico Minoru (Lyrica Okano) — who witness their parents commit an unspeakable act of super-villainy under the group Pride. It forces the kids to overcome their differences with one another in order to understand an impossible situation and work against the Pride, portrayed by Angel Parker, Ryan Sands, Annie Wersching, Kip Pardue, Ever Carradine, James Marsters, Brigid Brannagh, Kevin Weisman, Brittany Ishibashi, and James Yaegashi.
A film from Marvel Studios based on the 'Runaways' began development in May 2008, before being shelved in 2013 due to the success of 'The Avengers'. In August 2016, Marvel Television announced that 'Runaways' had received a pilot order from Hulu, after being developed and written by Schwartz and Savage. Casting for the 'Runaways' and the Pride were revealed in February 2017. Filming on the pilot began in Los Angeles in February 2017. The series was officially ordered by Hulu in May 2017.
We had the opportunity to visit the set back in September while they were filming and we talked with co-stars Ariela Barer and Allegra Acosta about the series and how was it being part of the Marvel franchise.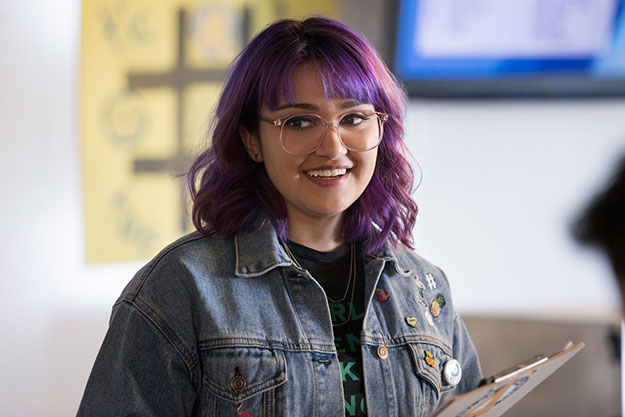 Question: How much of a dream come true was signing on for a Marvel series?
Allegra Acosta: So much! It was the biggest dream come true! It was almost unrealistic because, at the beginning of the year, before I even got this audition, I wrote my goals, and just casually I wrote, "Maybe I'll be a superhero!" I didn't think of it too much, but then, when I got this and I figured out what I was going to be and I ended up booking it, it was just so fast and so weird and unexpected. It's just the most exciting thing, ever, to be a part of this cinematic universe that's just about embracing your true hero. It's so amazing!
Ariela Barer: I feel like my formative years were right on the brink of Marvel taking over the entertainment industry. So, for me, it was always a thing to be like, "Maybe after I grow up and win an Oscar, I'll deserve my Marvel stint. I'll follow in the foot steps of Robert Downey Jr." But it came a lot faster than I thought it would, which is exciting.
Q: Latina superheroes are so far and few between. What does it mean to you to be representing not only your generation, but also a Latina superhero?
Acosta: I remember Gina Rodriguez was on Twitter like, "Where are all the Latina superheroes at?" And then, we were like, "We're right here Gina! You probably don't know who we are, but we're right here!"
Barer: It was really important to me that you have characters who are Latinas, and who are super strong and powerful. We have such a responsibility to show that, even though we got this opportunity, we have to create more for other Latinas, and for especially girls who are my age. I don't think you've ever seen 14 year-old Latina superheroes. It's just amazing to have that broad spectrum out there and to show that we're not our stereotypes. We're much stronger than that and bolder than that, and it's cool that we get variety within one show. We never end up falling into tokenism, or anything like that. It's cool to have two of us because we can be truly personal and relatable in without having to worry about encompassing everything into one story. We can keep it as real as possible. People don't have to relate to both of us. We don't have to be the perfect role models. We can be human.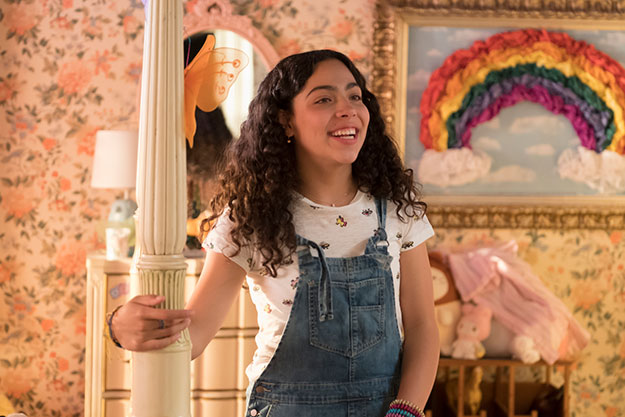 Q: What's the coolest aspect of your characters, that you're personally the most jealous of?
Barer: The thing about Gert is that she always knows what to say. She is a quick girl. I would have gotten through high school so much easier, if I could just talk the way she does and was as eloquent as she is. Also, she has a dinosaur!
Acosta: I get to have all these stunts that I get to work with, and I'm envious of that. Molly is just relatable. She's innocent, but she's mature and observant, and she's aware of what her surroundings are. She is a kid, but she's passionate and she has a desire to be eloquent and well-spoken.
Q: How do you figure out the way you want to pretend to have superpowers?
Acosta: I've watched so much Marvel and it's always been a dream of mine to be a superhero. It's always been a little fantasy of mine to embody a superhuman. I'm not saying it came easy to me. I still had to work for it. But I felt at home, as Molly. I was prepared and ready for this. That's how I feel about getting powers.
Barer: I feel like working with Old Lace is so easy, on some days, and then so hard, because of her mood swings. We have this incredible puppet that's amazing. You forget that it's a robot when you're around it. There are so many people operating her and she can do so much that I swear you can see emotions. You can see her thinking. When this real dinosaur is in front of me, I can become present in that second. But then, on other days, when it gets too complicated, we have to do CG, and then I'm acting with absolutely nothing. It goes from this incredible living, breathing puppet that I'm vibing with to a wall that is supposed to be a running around dinosaur.
Q: How hard has it been to keep all of this a secret from your friends and family?
Acosta: There are so many photos that I have on my cell phone that say, "Do not post until this show comes out!" I get constant reminders from Marvel about not posting or saying anything. I feel like I'm a secret agent. Even to get into my email, I feel like I have to get a retina scan just to see the script. It's so secretive. But once it comes out, it will have been worth it.
Barer: It's like actually being a superhero and having a double life.
Marvel's Runaways is now streaming, only on Hulu.