PITCH PERFECT 3 Advance Screening Pass Giveaway!
EntertainmentAffair.com presents the PITCH PERFECT 3 Advance Screening Pass Giveaway from Universal Pictures.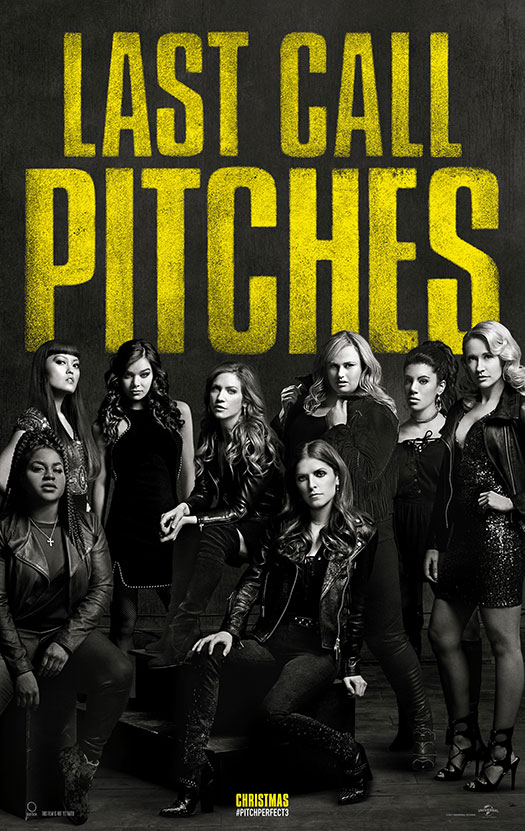 If you live or are in any of these cities we invite you to participate (Chicago, Houston, Los Angeles, Miami and New York City).
Download a first-come, first-served screening pass by clicking on the link for your city below. Screenings will take place on Wednesday, December 20.
Follow the instructions in your pass and share your excitement using #PitchPerfect3.
Chicago - Regal City North Stadium 14 IMAX & RPX
Houston - Edwards Houston Marq'E
Los Angeles - Edwards South Gate Stadium 20
Miami - AMC Sunset Place 24
New York City - AMC Empire 25
Now graduated from college and out in the real world where it takes more than a cappella to get by, the Bellas return in Pitch Perfect 3, the next chapter in the beloved series that has taken in more than $400 million at the global box office.
After the highs of winning the World Championships, the Bellas find themselves split apart and discovering there aren't job prospects for making music with your mouth. But when they get the chance to reunite for an overseas USO tour, this group of awesome nerds will come together to make some music, and some questionable decisions, one last time.
Visit all PITCH PERFECT 3 sites:
Visit the official website
Visit Pitch Perfect on Facebook
Follow @PitchPerfect on Twitter #PitchPerfect3
Pitch Perfect 3 in theaters December 22.