IT CHAPTER TWO Advance Screening Pass Giveaway!
EntertainmentAffair.com presents the IT CHAPTER TWO Advance Screening Pass Giveaway from Warner Bros. Pictures.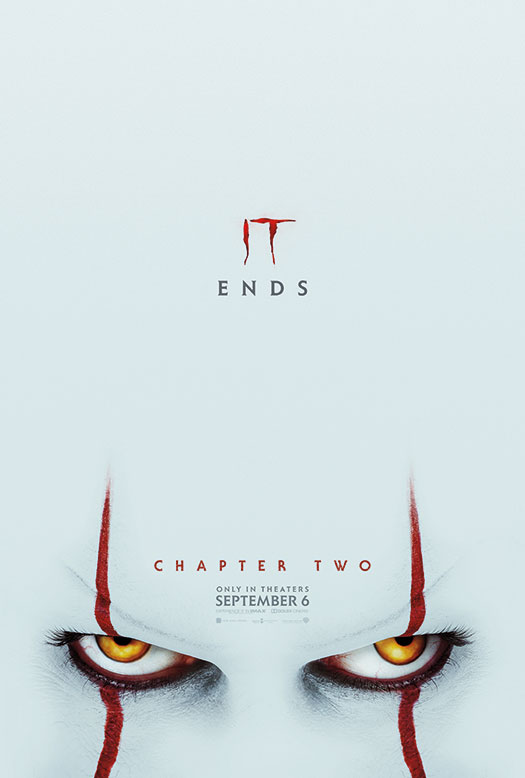 If you live or are in any of these cities we invite you to participate (Chicago, Dallas, Houston, Los Angeles, New York, Phoenix and San Jose). 
Download a first-come, first-served screening pass by clicking on the link for your city below. Screenings will take place on Wednesday, September 4th.
Follow us on Facebook, Twitter, Instagram, and YouTube.
Chicago - AMC Showplace Cicero 14
Dallas - AMC NorthPark 15
Houston - Edwards Greenway Grand Palace Stadium 24
Los Angeles - Regal LA Live Stadium 14
New York - AMC Loews 34th Street 14
Phoenix - Harkins Theatres Christown 14
San Jose - AMC Eastridge 15
Evil resurfaces in Derry as director Andy Muschietti reunites the Losers Club—young and adult—in a return to where it all began with "It Chapter Two."
The film is Muschietti's follow-up to 2017's critically acclaimed and massive worldwide box office hit "IT," which grossed over $700 million globally. Both redefining and transcending the genre, "IT" became part of the cultural zeitgeist as well as the highest-grossing horror film of all time.
Because every 27 years evil revisits the town of Derry, Maine, "It Chapter Two" brings the characters—who've long since gone their separate ways—back together as adults, nearly three decades after the events of the first film.
Visit all IT CHAPTER TWO sites:
Visit the official website
Visit IT Movie on Facebook
Follow @ITMovieOfficial on Twitter #ITEnds
IT ends September 6.