Chef Claudia Sandoval Joins First Season of Telemundo's MasterChef Latino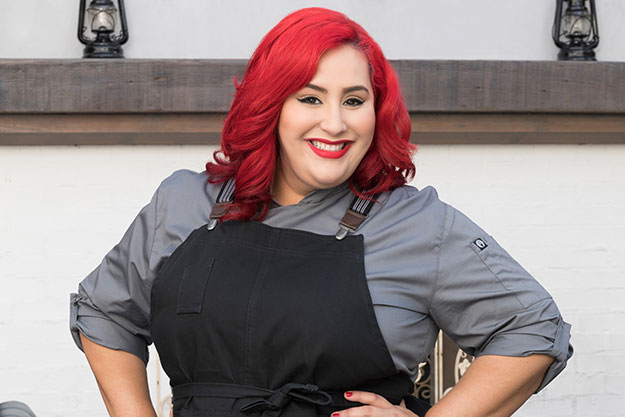 Chefs Benito Molina, Claudia Sandoval and Ennio Carota are the three judges of the first season of MasterChef Latino, a format that comes to U.S. Hispanic television for the first time in 2018. In this culinary competition hosted by Mexican TV star Aracely Arámbula, the trio of cooking experts will have to choose one among a group of cooking amateurs as the nation's first MasterChef Latino.
Chef Claudia Sandoval, winner of the sixth season of MasterChef U.S., now joins the first season of MasterChef Latino. Born and raised in San Diego, California, to a family originally from Mazatlán, Sinaloa, Claudia grew up with her mother and grandmother, who taught her how to cook since she was a little girl. After winning the coveted title of MasterChef, she began a successful culinary consulting and catering company under the name "Claudia's Kitchen," in addition to working with important brands and publishing the bestseller "Claudia's Kitchen: A Taste of Mexico" in 2016. Her culinary style is a modern take on Mexican coastal cuisine.
We had the opportunity to sit down with Chef Claudia Sandoval and ask her a few questions!
Question: I wanted to know about your experience going from a contestant to a judge if you can tell us a bit about that.
Claudia Sandoval: Oh my gosh it's so crazy I mean, one when you're a contestant you're worried about whether you're going to be going home every week. You're worried about the time on the clock and then you're trying to make sure that you grow. Right. Every week. And so I think that that's obviously very different because now I'm in a role where I get to be a mentor to everyone that's going through kind of what I already went through. So it's fundamentally different. But I also love it because I get to share everything that I've ever learned in the kitchen. And all the things that I continue to learn because anybody that's a chef that is a good chef should know you know knows that you continue to grow.
Q: Are you going to be like a mama bear or you're going to be like a mean judge?
Sandoval: Maybe like a mean mama bear. So I'm like a traditional Latina mom, like my mom was super strict with me. My mom never took any like sass from me. And I think that that's really kind of who I am in the kitchen as well you know it's like yes we're here to cook you know with love and all of that but at the same time we're here to get a job done.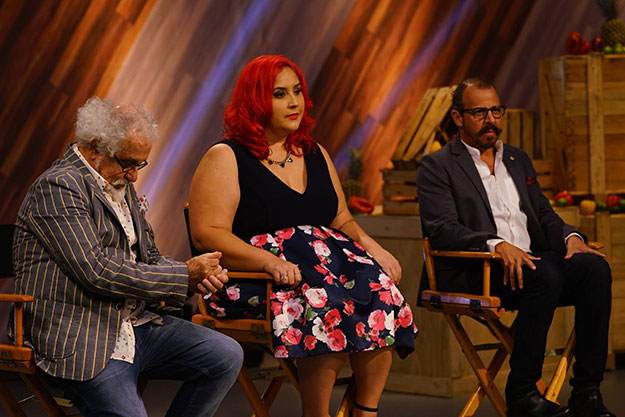 Q: Are you gonna be throwing the "chancleta" like a latina mom?
Sandoval: No (laughs) no chanclas flying. You know I definitely am not going to you know, nobody's going to pull one over on me because I know what they've been through. I know how hard it is. But I also know what can be done. You know it's like don't come to me with something that... you know we have over 4000 ingredients in those pantries for them and then when you come to me with something that's kind of mediocre it's like come on, you can't, you can't play with me. I know the potential of what you could do. So that's kind of where the strictness will come out.
Q: Is there something that you learned from the judges when you were a contestant that you're going to be like, No I'm not going to be doing that because I learned like that's not the way to go.
Sandoval: No I think that everything that the judges you know all of the critiques and all of the comments that they give us are actually all good comments there's nothing even. You know I think, I think one of the best things that I learned while being a contestant was humility and it's so important to be able to take that criticism and to implement it because sometimes it's not just criticism for you, you know, it's criticism for all of the other contestants. So you have to be willing to listen to everything that all the judges are saying. So no there was nothing there, no one thing that I was like, oh I wouldn't I wouldn't do that. No. I have a deep sense of respect for all three of the judges. Chef Christina Tossi, Graham Elliot and Gordon Ramsay who you know I have so much respect for them and everything that they gave me in terms of criticism and critiques were valuable.
Q: What was your favorite episode so far of Master Chef Latino.
Sandoval: Well I don't. I don't think I have a favorite and I don't know that I can share specifics but I think around Valentine's Day we're going to have a really really fun one. So I think people should definitely tune in around Valentine's Day because we're going to have a really really the was the most fun. Like the way we dress. What happened. I think tune in around Valentine's.
Q: Are we gonna see a lot of Puerto Rican food?
Sandoval: I think you're going to see a lot of Latino food like I think you're going to be surprised by the amount of variety and diversity that we have. We have people from Colombia, from Peru, from Guatemala,from Chile, from Mexico obviously, from Puerto Rico, Dominican Republic, Cuba. So you have such a wide variety of people from all over Latino America. I think it's going to be people are going to be surprised, not just Puerto Rican, it's not just Mexican, they're going to be pleasantly surprised with how diverse.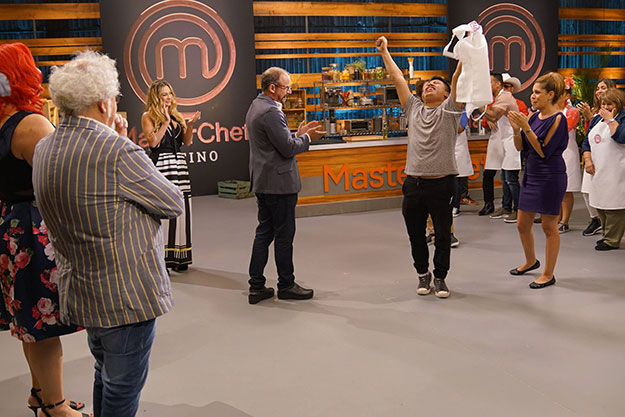 Q: I am gonna put you on the spot. What do you think of mofongo?
Sandoval: I love mofongo. You guys are killing me with arroz con gandules and mofongo, I make a mofongo with like a braised pork and then like what do you call it, the garbanzos.
Chickpeas, so good. Yes. I love I love the mofongo because it's so garlicky. Oh my, yes!
Q: What is your favorite dish to do?
Sandoval: My favorite dish to cook. Honestly it's probably chiles rellenos and chiles rellenos is one of my favorite foods all around in general. But there's such a labor of love. You have to be patient. You have to like toast the is just the right temperature because if you don't roast them the right way then they'll fall apart. You know and there's a science to how you make the egg coating and everything. So that's a big one. And I really really, believe it or not, I really like making sticky toffee pudding which is a Gordon Ramsay staple. It's like it's like a delicious pound cake with like toffee and it's delicious. So you would love it. Yes. So delicious.
Q:What is the weirdest thing that you've ever tried?
Sandoval: I think the craziest craziest thing that I tried was fermented soybeans. When I was in Japan and my daughter, my daughter loves Japanese culture and so we took her there, was part of our how we spend our money. We both spent it, we went to Japan and I tasted fermented soybeans and they tasted like a rotting corpse. Essentially it was probably the most disgusting thing, I wanted to throw up immediately. So, but I tasted a lot, I am a very experimental eater, I love to try things at least once or twice. I would never try it again ever ever not ever never ever.
Q: So what's next for you?
Sandoval: What's next. I think one, I obviously am going to be working on MasterChef Latino for a little while here. I am really working on getting some new projects underway and a lot of them I can't talk about. I'm going to be starting a youtube channel soon so people should tune into that and then, I am writing another cookbook, I'm so excited. So yes writing a cookbook and hopefully opening a restaurant in San Diego soon. Oh yeah. So really exciting stuff.
Viewers can find more about MasterChef Latino through Instagram, Facebook and Twitter: @MCLatinoTV.
"MasterChef Latino" domingos a las 8/7C por Telemundo.